The Best Deals for Cheap Summer 2023 Flights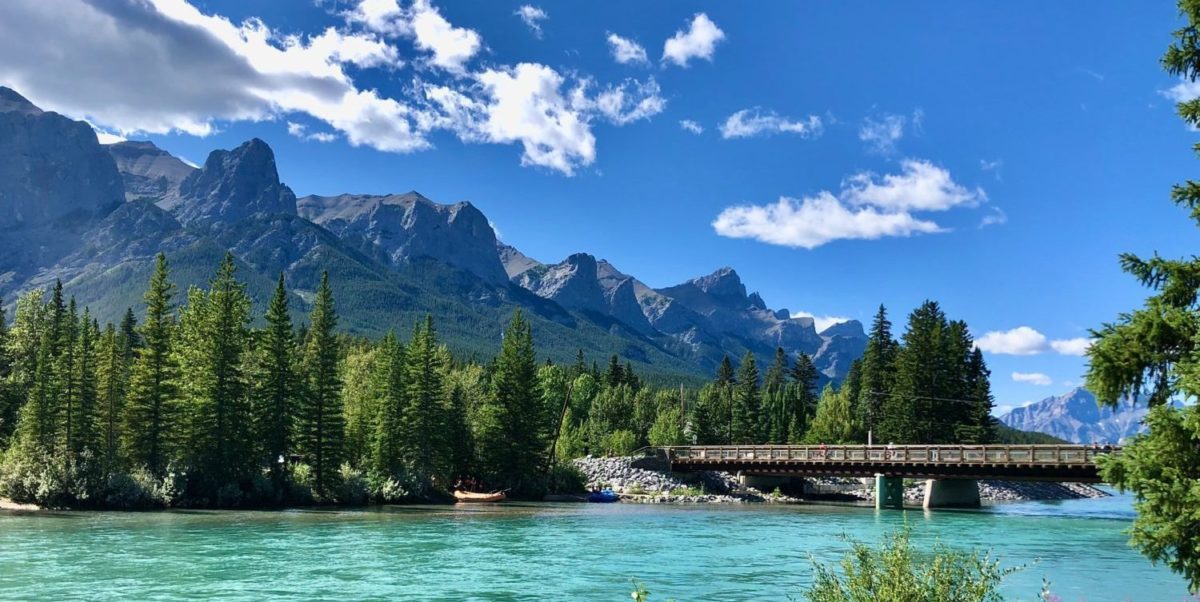 Finding and booking cheap flights for a trip over the summer isn't always easy. But if you know where to look, you'll find that the deals are out there. And we've got the proof.
We've been looking ahead to summer 2023 flights for months. More importantly, we've been finding and sending our Thrifty Traveler Premium members dozens of cheap fares – and Thrifty Traveler Premium+ members have been getting award alerts to lock in a trip for next summer using their points and miles, too.
Last year's surge in flight prices continued through the winter months – plus, peak-summer travel always sees the highest demand, driving prices higher. But thanks to some unusual (but welcome!) flight pricing trends heading into this summer, you can still book a trip for this summer without dipping into your savings.
Whether it's a summer trip to Banff National Park in Canada, a cheap fare to Europe, or a lie-flat seat to Dublin using points, here are some of the best deals we've been seeing for summer 2023 to help you hone in on a great destination for a trip this summer.
Want more summer travel tips and tricks? It's Summer Travel Week at Thrifty Traveler – follow along!
The Best Cheap Flights for Summer 2023
Trust us: You don't have to spend a small fortune just to fly somewhere next summer.
Let's start in Alaska, where peak summer airfare can be tricky to find. If you time it right, though, you can get deals under $396 roundtrip to this wild state.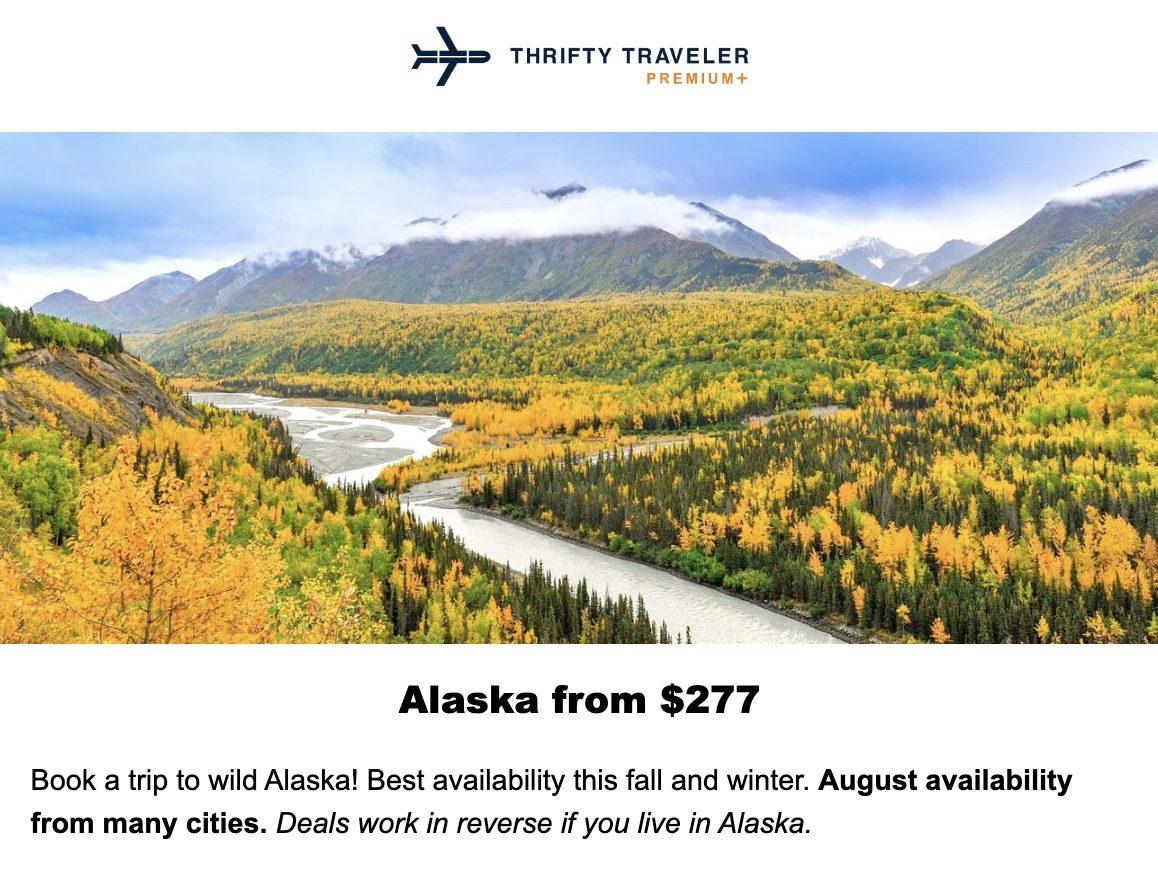 From just $277, you could fly to Anchorage (ANC) this August to see Alaska in its best month of weather. These flights are routinely in the $400s and $500s and can be much, much worse than that from some airports, too.
If you like Alaska, you'll probably also like places like Glacier National Park in Montana and Canada's Banff National Park. You can probably guess where we're going next…
 
Usually, when we're talking about summer flight deals, we're talking about early June and late August. That's typically when the lowest fares can be found, but thanks to some new routes from WestJet, these flights in the $200s and $300s to Calgary (YYC) can also be found in the heat of July in many cases.
While this Glacier National Park deal features mostly August availability, that's the absolute perfect time to visit the park. With the highest fare of $249 roundtrip on this deal, it's more than safe to say this is 50% off regular rates.
 
I'll admit I'm a little biased toward these kinds of destinations, the kinds of places where you need a plastic bag for your boots so you don't dirty up your suitcase on the way home. So here's one more flight deal for the outdoorsy crowd.
You may already know about Iceland and its peak summer midnight sun, but what you might not have known is how many nonstop routes from the U.S. to Iceland you can fly thanks to Delta and Icelandair … and just how cheap it can be to get there, even in the middle of summer.
 
These cheap fares are gone now – get the next deal in your inbox with Thrifty Traveler Premium!
Iceland fares are routinely pretty affordable thanks to a glut of budget carriers that fly the island country in the Atlantic. But in the heart of summer, you can normally expect to pay twice these rates or more depending on your departure city.
Let's look at some other kinds of destinations with cheap flights this summer, a little something for the feet-up-with-a-cocktail-and-a-sunburn crowd. I love these trips, too. I've got range.
 
August is the sweet spot for cheap flights to Fiji. While you may not need a sun-soaked trip as badly in August as you do in February, for families or travelers tied to the academic calendar, you might not get a better chance to spend a week in Fiji.
If you've searched for Fiji flights before, you might be a little too used to seeing fares in the quadruple digits. These August fares were steeply discounted. Book this flight for a teacher you know. They deserve this!
How about this deal for our friends up north? Canadians need vacations, too!
 
This flight deal we sent a few weeks ago included early June availability flying from Toronto (YYZ), Montréal (YUL), and Thunder Bay (YQT) to Bermuda (BDA) for less than $399. It was a perfect way to break the long winters and springs of the north and maybe get your golf swing back in working order right as the courses were reopening back home, too.
A little closer to home, a flight to Cape Cod, Martha's Vineyard, or Nantucket in June will usually run travelers as much as $400 or $500…
 
Thanks to a JetBlue sale, the airlines all had to drop flight prices to Cape Cod and the Islands, paving the way for dreamy summer nights on the East Coast.
Here's another of the best summer fares we've found this year, and we should know – we booked this flight deal for our annual company retreat.
 
Asheville, North Carolina, nestled in the Blue Ridge Mountains, is a splendid getaway for any traveler. And with peak summer fares under $200 (including the Main Cabin rate on this one above!), it's an ideal weekend trip for travelers on a budget.
Using Points & Miles for Summer 2023 Travel
When it comes to finding great award tickets, it pays to plan far ahead. If you want any shot at a good deal using points and miles for a summer 2023 trip, you should already be on the prowl for award availability for flights that are actually bookable with points and miles. Or, you could let us do the legwork for you.
Our team of points and miles masterminds has dug up plenty of ways for our Thrifty Traveler Premium+ subscribers to use their hard-earned points and miles this summer. Want to hit the beach? Take a look at these Delta SkyMiles rates to Cancún, Mexico (CUN).
 
Only Thrifty Traveler Premium+ members get alerts for discounted points and miles fares like this one!
In economy, and especially for flights within North America, Delta SkyMiles can have enormous value thanks to Delta SkyMiles flash sales. This unusual flash sale to Cancún was literally up to 75% off typical SkyMiles rates in some cases. There must have been a lot of empty seats on these routes to Mexico because it makes no sense why rates were this low!
We've sent our Thrifty Traveler Premium+ subscribers hundreds of award alerts to use their points and miles over the last few months and many of them can help you get to Europe. But in the last two weeks, we've sent two real beauties.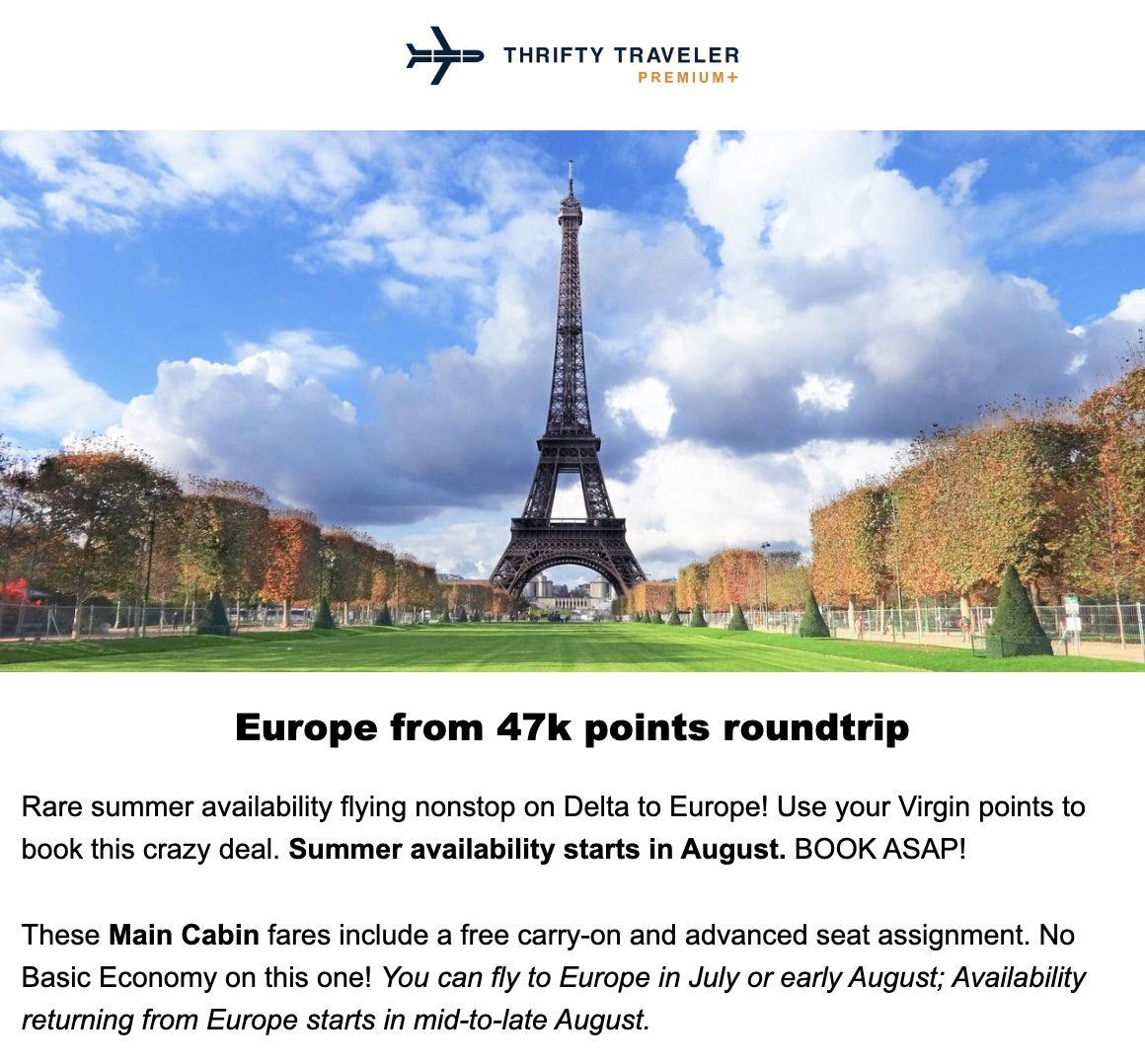 This flight deal flying Delta's routes to Europe using Virgin points was a real boon for our subscribers. Virgin points, thanks to their long list of credit card transfer partners, are easy to earn, putting this deal well within reach for most travelers to book an August trip abroad.
For reference, these flights would cost you between 80,000 and 150,000 Delta SkyMiles (or upwards of $1,000 in cash) roundtrip if booked another way.
Thrifty Traveler Premium+ is the only service that sends both award deals to use points & miles as well as cheap domestic and international cash fares! 
Economy roundtrips to Europe and Africa starting at just 17,000 points seem … impossible. It's not, I swear, but only if you use transfer Chase points to Air France/KLM with the current 25% bonus.
 
But even if you don't transfer from Chase, these rates were some of the lowest we've seen for travel on Air France or KLM flying nonstop to Amsterdam (AMS) and Paris-Charles de Gaulle (CDG), and then connecting on to the rest of the continent and even down to North Africa.
Some of these fares are over $1,000 in cash. Think about what you'd rather use that $1,000 on once you land in Europe!
It's not just economy deals either. We've found ways to use your points and miles to fly in a comfier seat this summer, too.
There's no better way to get to Dublin this summer than flying lie-flat in Aer Lingus business class. We alerted Thrifty Traveler Premium+ members to wide-open availability on several routes from the U.S. from just 50,000 points each way.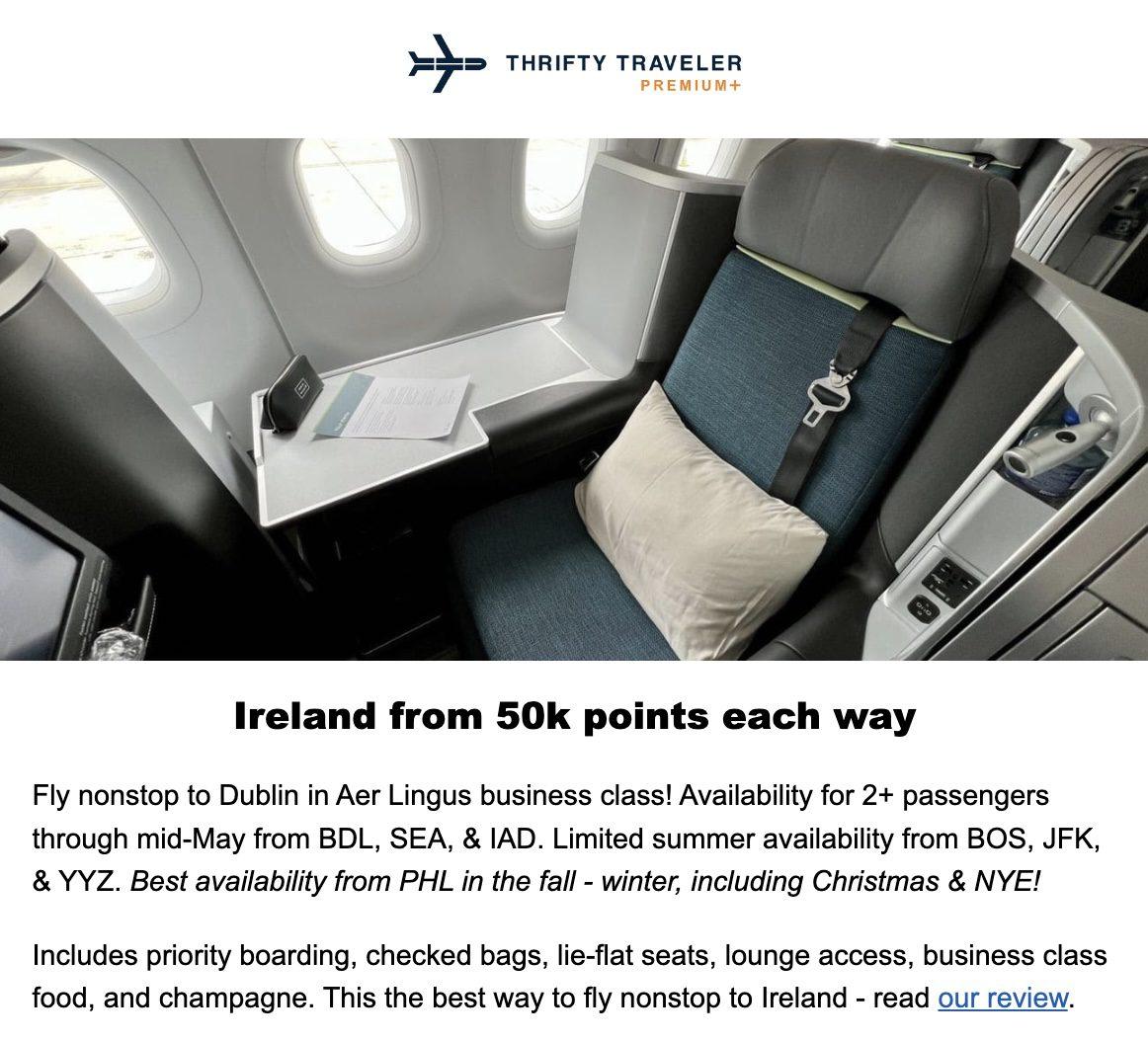 If you paid cash for this trip, you're about $3,800 lighter…ouch. That's what makes 50,000 points for this business class seat such a good deal.
Another deal that cropped up to fly abroad in style? Flying SWISS business class to Geneva (GVA) for just 60,000 points. The best part? It includes summer 2023 availability.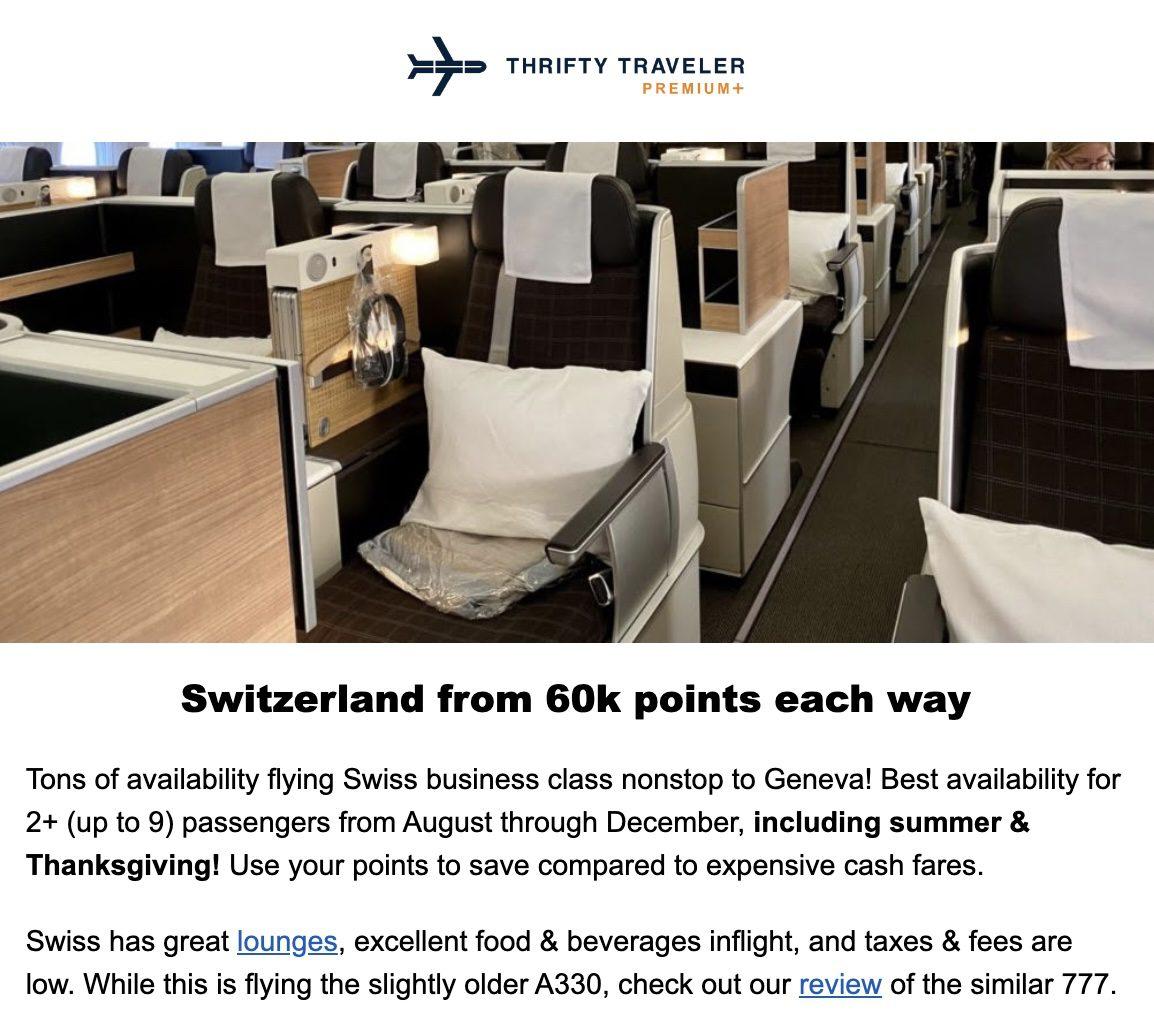 If it were me, I'd book this flight, then head about 90 minutes south of Geneva to the town of Chamonix, France. Thrifty Traveler co-founders Erica and Jared both visited Chamonix last year and I followed in their footsteps a few months later. We compiled all our tips into a guide to visiting the Alps enclave.
The cash rates on these seats would be astronomical, but that's the beauty of using points and miles to book business class.
Bottom Line
It's not too late to book cheap summer 2023 flights to wherever you want to go this year, and these flight deals are proof. Even well into April, we keep finding great summer flight deals, including ones to use your points and miles. You can book one, if you know where to look.
Make sure you're subscribed to Thrifty Traveler Premium+ to get all the best summer 2023 flight deals as we find them.