Best Home, Fashion, Travel Deals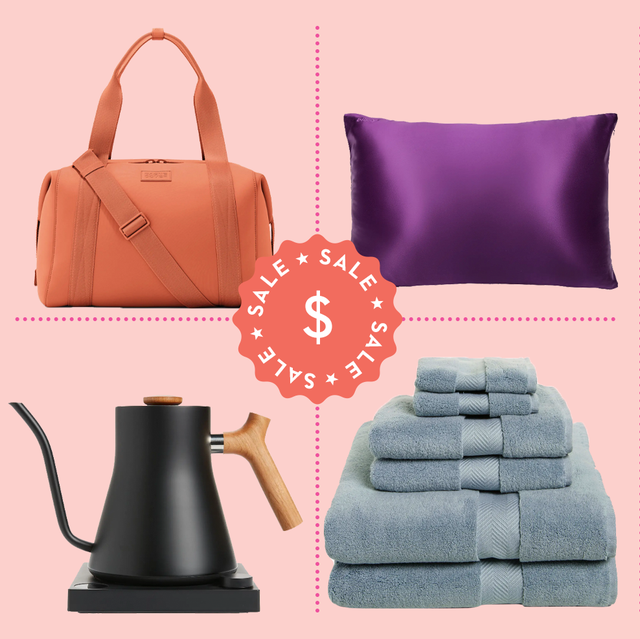 One of our favorite sales to shop every year, the Nordstrom Anniversary Sale, is back again! For fashion lovers, the annual sale is practically considered a holiday thanks to rare discounts on designer brands and the season's newest trends. But even more casual shoppers know that it is a chance to stock up on wardrobe staples for less. What you may not know is that the sale extends far beyond fashion: it also includes a huge selection of home decor, kitchenware and travel gear.
Between the busy social calendars, wedding invites galore and return to travel that has marked summer 2022 so far, we've never been more ready to shop the Anniversary Sale that we are right about now. Some of the best deals this year are on luxury home fragrance, women's shoes (especially boots), and Nordstrom's in-house brands. Pro tip: there are also so many of our favorite gift ideas featured in the sale, so we're taking advantage and getting a head start on holiday shopping. Ahead, shop our 32 favorite fashion, travel, home and kitchen finds from the 2022 Nordstrom Anniversary Sale.
Shop the Nordstrom Anniversary Sale
What is the Nordstrom Anniversary Sale?
The Anniversary Sale is Nordstrom's biggest sale of the year, and it is unique in a few ways. First, it lasts about two weeks, giving you plenty of time to shop and save (unlike other quick sales like Amazon Prime Day). Second, Nordstrom previews the deals before they actually go on sale, so you're able to strategize and add items to your cart in advance. The most important part about this sale, though, is the reverse approach to marking things down: instead of offering discounts on old, out-of-season inventory, Nordstrom knocks an impressive percentage off a bunch of brand-new merchandise. The Anniversary Sale happens every summer, which makes it a golden opportunity to stock up on the latest summer styles and swimwear or fall-friendly pieces like jackets, jeans and boots long before the first chill hits the air.
When is the Nordstrom Anniversary Sale 2022?
The Nordstrom Anniversary Sale 2022 starts today, July 15, and runs through Sunday, July 31. Nordstrom card holders got early access to the sale starting July 6, which was a huge advantage because the best deals tend to sell out fast. On June 29, Nordstrom dropped the official Anniversary Sale Preview, where shoppers could see all the discounts coming up in this year's sale.
Check out our favorite finds from this year's Anniversary Sale below. If you see something you like, we recommend acting fast because so many items have already sold out.
Advertisement – Continue Reading Below
Nordstrom Anniversary Sale Fashion Deals
Rose Dream Custom Coverage Underwire Bra
Natori
$72.00
$48.00 (33% off)
After testing more than 100 bra styles with over 250 women and reviewing thousands of data points, The Good Housekeeping Institute Textiles Lab named Natori's Dream Custom Coverage Underwire Bra the overall best bra of 2022. Researchers at the GHI Textiles Lab also gave this T-shirt bra the highest ratings for comfort, in addition to praising its durability as this Natori best seller holds up well after washing.
Studio Luxe High Waist Pocket Leggings
Zella
$79.00
$50.00 (37% off)
If you've never tried leggings from Zella, Nordstrom's cult-loved in-house activewear brand, the line's brand new Studio Luxe Leggings are a must. Earning their moniker, these have a wildly comfortable feel, a flattering high waist, and a convenient side pocket. Plus sizes are available as well.
Cotton Poplin Button-Up Shirt
Open Edit
$29.90
$49.00 (42% off)
Every wardrobe needs a cotton poplin shirt. Style this with everything from white jeans and sandals to black leather pants and heels.
Rails
$168.00
$109.99 (35% off)
For those days when you just need to grab something out of your closet and head out the door, you can't go wrong with a plaid shirt. This one has a roomy fit and is super soft, so you'll stay comfortable too.
Ex-Boyfriend Relaxed Slim Jeans
AG
$225.00
$149.00 (34% off)
It's not a successful Anniversary Sale until you find discounted designer denim. These comfy cropped boyfriend jeans from AG are one of the most popular options on Nordstrom's site. If you need to see more options, there are almost 200 more pairs of jeans on sale.
Print Jersey Faux Wrap Dress
Eliza J
$138.00
$81.99 (41% off)
A chic wrap dress is perfect for all of your upcoming summer occasions.
CozyChic Lite Circle Cardigan
Barefoot Dreams
$116.00
$80.00 (31% off)
For a sense of how beloved this soft-to-the-touch cardigan is, turn to its 3.7k ratings and counting. As one reviewer put it: "It's my favorite cardigan and everywhere and time I wear it I get compliments and asked where I purchased it from. Comfy, warm and fits perfectly."
Cashmere Crewneck Sweater
Nordstrom
$129.00
$90.00 (30% off)
Cashmere sweaters are timeless. If you're keen on stocking up, note that this popular crewneck is on sale in 8 other colors for Anniversary Sale this year.
Open Edit
$119.00
$79.00 (34% off)
If your fall wardrobe could use an infusion of glamor, behold this faux leather trench. All but guaranteed to be a compliment magnet, this day-to-night piece warrants excitement over tricky transitional weather.
Patchwork Quilted Hooded Puffer Coat
Avec Les Filles
$229.00
$130.00 (43% off)
Finding a new season winter coat on this steep of a sale after Nordatrom's Anniversary Sale is a risky gamble to take. Here, a unique puffer whose patchwork motifs were inspired by vintage quilts and "grannycore" aesthetic.
Vagabond Shoemakers
$185.00
$134.00 (28% off)
Nordstrom's Anniversary Sale includes over 100 different pairs of boots to deliberate between this year. With a 2-inch height and a sleek, leather look, these beauties from Swedish brand Vagabond make a versatile and fashionable contender.
GEL-Kayano 28 Running Shoe
ASICS
$160.00
$130.00 (19% off)
The Good Housekeeping Institute named Asics' Gel-Kayano 28 one of the best women's running shoes of 2022. A particularly wise pick for anyone with flat feet, these are made with firmer foam to help prevent the foot from rolling inward excessively.
Nordstrom Anniversary Sale Travel Deals
V4 International Expandable Spinner Carry-On Suitcase
Tumi
$695.00
$485.99 (30% off)
Tumi makes some of the best luggage money can buy, and Nordstrom is hosting a rare discount on their expandable carry-on, featured here, and checked luggage during the Anniversary Sale. While Tumi luggage is an investment, it's sure to last thanks to the brand's unique service offerings like repairs and luggage registration to help you find lost bags.
Future Uptown Cassis 20-Inch Carry-On Suitcase
Vacay
$185.00
$109.90 (40% off)
If carry-on luggage is what you need, this 20-inch spinner has all the bells and whistles an impressively affordable price. The interior features two wet pockets (one removable and one attached), shoe pockets, and a large compression pad to keep belongings in place when it's not stuffed full. We're fans of this cute dusty pink, but it comes in more standard colors like black and gray too.
365 Landon Neoprene Carryall Duffle Bag
Dagne Dover
$200.00
$133.90 (33% off)
This trendy Dagne Dover duffle will make travel easier. It's big enough for quick trips thanks to tons of internal storage compartments made to hold all the essentials (think: laptop sleeve, removable shoe bag, stretch key leash). It's also easy to bring along with a checked or carry-on bag thanks to a slip pocket that fits snugly over the rolling handle of most suitcases. And the outer shell is made of water-resistant neoprene, so you never have to worry about your items getting wet.
Le Pliage Expandable Tote
Longchamp
$195.00
$149.99 (25% off)
This version of Longchamp's iconic nylon tote is expandable, meaning you can carry it as usual or release the zipper to almost double the capacity. When expanded, it makes a great overnight bag. It comes in a range of eight colors.
btb Los Angeles
$98.00
$57.99 (41% off)
This straw tote screams vacation — literally. It has ample room to carry a couple towels, a book, and anything else you might need for an undisturbed day by the beach, pool, or wherever you go to unwind.
Initial Zip Square Jewelry Box
Nordstrom
$20.00
$12.90 (35% off)
Cute yet practical, this monogram jewelry box will keep all your favorite accessories organized in one place, whether traveling or sitting atop your dresser.
Nordstrom Anniversary Sale Home Deals
CozyChic Throw Blanket in Dove
Barefoot Dreams
$147.00
$97.90 (33% off)
It's Kourtney Kardashian's favorite blanket and it's discounted during the Anniversary Sale. Score! What sets this blanket apart is that while it is an an incredibly plush microfiber throw, it won't shed, shrink or pill even after years of use and multiple machine washes. It also comes in 11 neutral tones so you're sure to find a perfect match for your decor. Need we say more?
Diptyque
$152.00
$110.00 (28% off)
This is a rare chance to try four of Diptyque's most popular fragrances while they are on sale. If you're using the Anniversary Sale for early holiday shopping, this set is sure to please any candle lover in your life.
Bamboo & Grapefruit Reed Diffuser Duo
Nest New York
$116.00
$78.00 (33% off)
For the reed diffuser lovers out there, this deal can't be missed. Nest diffusers will fill any room with fragrance for months, and they make for beautiful decor. Bamboo and grapefruit are two of the brand's signature fresh scents.
Hydrocotton Bath Towel, Hand Towel & Washcloth Set
Nordstrom
$98.00
$74.90 (25% off)
Do not sleep on Nordstrom's in-house brands. These bath towels will make your bathroom feel like a luxe spa: they are ultra-absorbent yet dry quickly and stay soft to the touch.
BLISSY
$79.95
$63.99 (20% off)
Silk pillowcases can help reduce wrinkles, alleviate bedhead and give you better skin. Silk is a smooth surface for your hair and skin to glide over, so there is less friction than with standard pillowcases, creating less creases on your skin and less frizz in your hair. Blissy's silk pillowcase is one of the most searched for options by online shoppers.
Carver Luxe Digital Photo Frame
Aura
$179.00
$159.90 (11% off)
Finally, a digital photo frame that looks as beautiful as the photos it displays. This thoughtfully designed device has a weighted and beveled acrylic frame, crystal-clear 1920 x 1200 resolution and impressive tech that syncs with your phone to easily upload all your favorite photos. You can even scan a QR code to start uploading photos before you open the box, so the frame is ready to go right when you set it up.
Smart Garden 9 Self Watering Indoor Garden
Click & Grow
$229.95
$123.99 (34% off)
Whether you lack a green thumb or don't have space to garden outdoors, a smart garden will help you achieve your dream of growing your own herbs and produce. It does all the work for you: it's self-watering, has built-in LED plant lights, and includes the soil and seed packs. We've even heard success stories from users who were able to grow herbs and berries indoors in the winter.
Nordstrom Anniversary Sale Kitchen Deals
Round Marble & Acacia Wood Serving Board
Nordstrom at Home
$59.00
$39.90 (35% off)
This marble and wood serving platter would make a beautiful base for your next charcuterie board (or hot chocolate board, come Holiday season).
Vitamix 7500 Blender Bundle
Vitamix
$790.00
$549.99 (30% off)
PSA: this popular Vitamix blender bundle is cheaper during Nordstrom's Anniversary Sale than it was during Amazon Prime Day. It's actually even cheaper than the original price of the Vitamix 7500 blender on it's own, but complete with a smaller 32-ounce container, two 20-ounce cups with to-go lids, and a tamper.
Hot Dish 4-Quart Rectangular Baking Dish
Great Jones
$75.00
$55.99 (25% off)
Great Jones makes highly functional yet incredibly chic kitchenware. This 70s-inspired casserole dish is just begging to accompany you at your next potluck, filled with one of your signature made-with-love dishes. It makes a great gift, too.
Holy Sheet Pans in Blueberry, Set of 2
Great Jones
$80.00
$59.99 (25% off)
Sheet pans don't have to be boring. Another playful kitchen find from Great Jones, these electric blue sheet pans have a custom nonstick ceramic coating that allows for quick and easy cleanup.
Stagg EKG Electric Kettle
Fellow
$189.00
$140.99 (27% off)
Aside from looking beautiful on your countertop, this electric kettle is specifically designed with pour-over coffee in mind. It has a gooseneck spout engineered to achieve the optimal pour and an LCD screen with precise temperature control in a range of 135°F-212°F.
Wide Mouth Bottle with Straw Lid & Boot (32 oz.)
Hydro Flask
$54.95
$41.90 (25% off)
The importance of a great water bottle cannot be overstated. This one will keep water cold for 24 hours (we've put ice in one morning and found it still frozen the next) and it has a large 32-ounce capacity with a wide straw, perfect for stying hydrated while on the go.
Knife Block Cutlery Set, 17-piece
Viking
$379.99
$299.99 (21% off)
So many knife block sets come with dull knives that simply aren't great. This one is the opposite of that. You'll get all the knives needed for various cooking techniques (such as a chef's knife, bread knife, carving knife, boning knife, pairing knife, etc.) as well as a full set of six steak knives—all of which are made with premium German steel blades.
This content is created and maintained by a third party, and imported onto this page to help users provide their email addresses. You may be able to find more information about this and similar content at piano.io
Advertisement – Continue Reading Below