How Spam Became a Staple of Asian Cuisine | Arts & Culture
One of my favorite dishes to eat while growing up was budae-jjigae, which literally means "army base stew" in Korean. Typically, the stew's bubbling broth fuses traditional Korean flavors—the spice of gochugaru, the earthiness of mushrooms, the pungency of kimchi—with an unlikely yet essential addition: Spam.
I once wondered aloud to my mom: "Is Spam Korean? How did it get in here?"
Spam—the canned meat made of pork, sugar, salt, potato starch, water and sodium nitrate—has an influence that has stretched across oceans, inspiring stage performances like Monty Python's Spamalot and Specially Processed American Me, entire poetry archives, and even a boy band named All4Spam.
Beyond South Korea, where Spam is often found in kimchi fried rice and gimbap, the versatile product has been incorporated into countless international cuisines. The Spam website hosts a wide selection of recipes, allowing users to filter their searches by culture and style of preparation: "Asian," "Mexican," "Americana." Home cooks can learn how to assemble any and all things Spam, from Spam musubi to a gyro Spam-burger to Spam pho.
"Spam was born in America but raised around the world," says Jennesa Kinscher, the senior brand manager of Spam at Hormel Foods.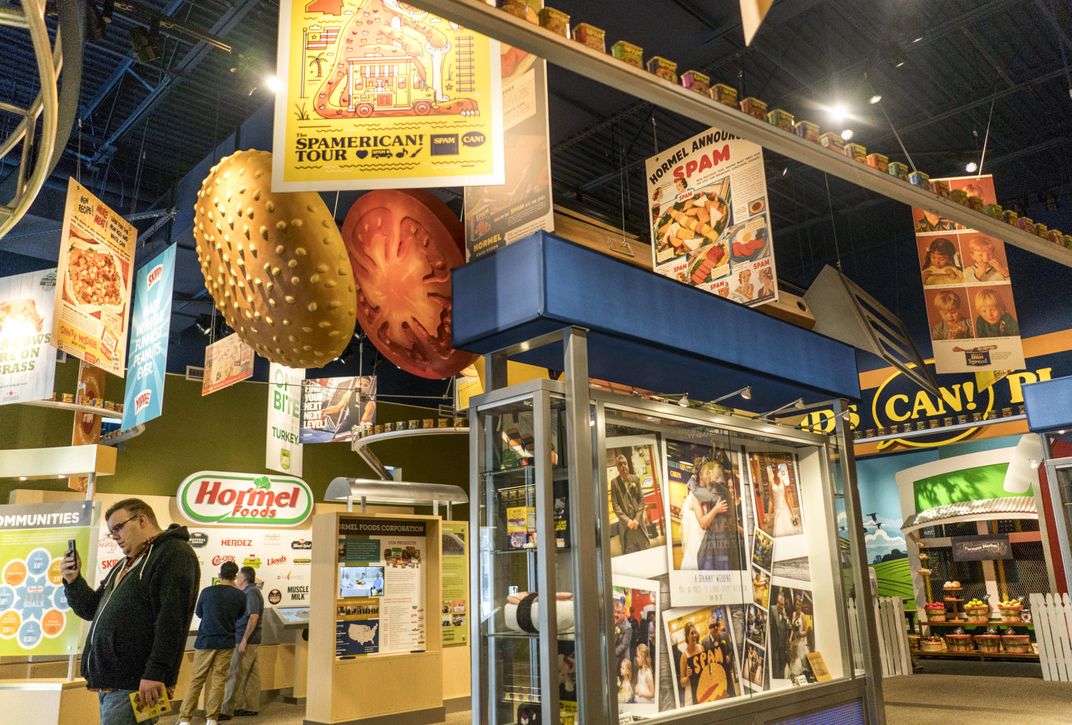 The salty, fatty pink meat was first introduced by Hormel in 1937. Ken Daigneau, brother to a Hormel Foods vice president, came up with the name "Spam," winning $100 in a naming contest, according to the Spam Museum in Austin, Minnesota, the small city where Hormel is headquartered. Jay Hormel, head of the company from 1929 to 1954, once said the name Spam came from a marrying of "spice" and "ham," though others have speculated that Spam stands for "Specially Processed American Meat" or "Shoulder of Pork and Ham." The slogan at the top of the Spam website reads "Sizzle Pork and Mmm."
At first, Spam was marketed toward housewives who wanted quick, cheap meals. Early advertisements encouraged Americans to enjoy Spam hot or cold: bake it, pan-fry it or even serve it as a Spam-wich. But when World War II started, the U.S. military turned to the canned meat as a reliable source of food that was easily distributable among G.I.s. Spam packs a punch with 7 grams of protein, 16 grams of fat and 180 calories per serving. With six servings in a single can of Spam, the meat amalgamation was deemed fit to feed an army. Further, Spam has no expiration date when stored at proper conditions; rather, it has a "best by" date that typically spans three years after the can's manufactured date.
The United States sent 15 million cans of Spam per week to troops during the conflict, says Kinscher. Soldiers ate so much Spam that they soon grew sick of it. The Oxford Encyclopedia of Food and Drink in America describes the angry letters written by soldiers and addressed to Hormel and to the military newspapers Yank and Stars and Stripes.
"Soldiers called the product 'ham that didn't pass its physical,' 'meatloaf without basic training' and 'the real reason war was hell,'" explains the encyclopedia.
The Spam-rich dishes I ate growing up, like gimbap and kimchi fried rice, felt uniquely Asian American, products of entangled cultures and cosmopolitan exchanges. I hadn't realized that Spam made its way into them because of American involvement in 20th-century wars.
G.I.s weren't the only ones who ate Spam during World War II, the Vietnam War, the Korean War and other Cold War conflicts. As troops set up camp towns and military bases, they interacted with locals. During the Korean War, American troops traded military goods, like Coca-Cola, gum, corned beef and Spam, for sex services and entertainment, says Robert Ku, an associate professor of Asian and Asian American studies at Binghamton University. In other places, like the Philippines, G.I.s threw cans of Spam to hungry people.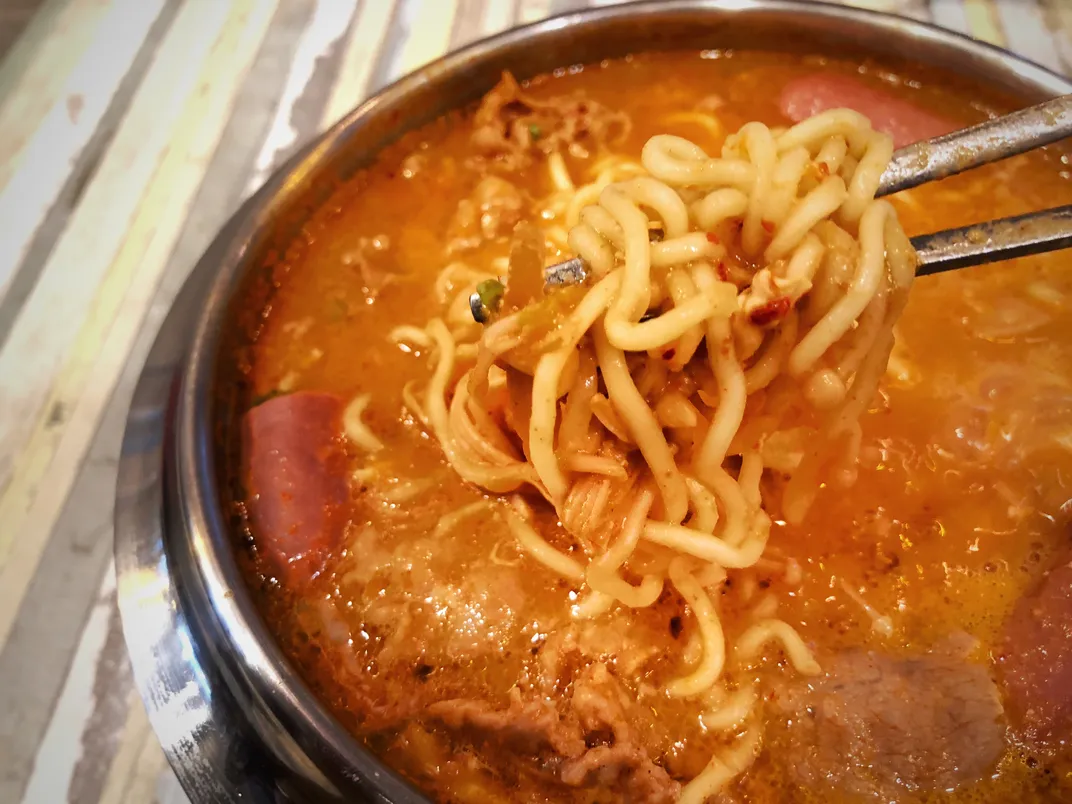 My grandmother, who grew up near war zones in Korea, still refuses to eat budae-jjigae. When she was young, locals in her town would steal scraps of food from military bases. Once, when a friend offered her budae-jjigae, she found G.I.s' discarded cigarette butts floating among chunks of Spam in the soup.
When the wars ended, the American military left behind cans and cans of Spam around the world.
"You start to see countries like South Korea, the Philippines and Japan really starting to utilize it in their own ways," says Kinscher. "It was actually these communities that started elevating this brand and making it their own."
So much so that, the Spam senior brand manager says, many immigrants to the United States are surprised to see Spam in grocery stores. "They'll see Spam on the shelf, and they'll say, 'Hey, you have Spam? That's ours!'" Kinscher says. "They don't even realize that Spam was actually made in the United States and brought throughout the world."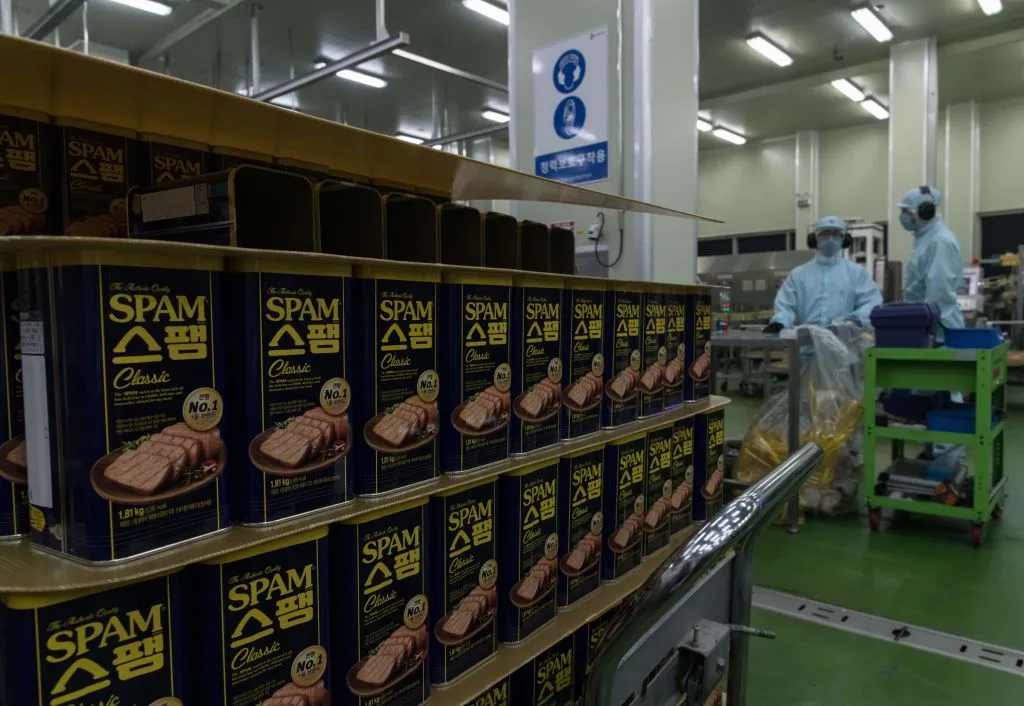 Mire Koikari, a sociologist at the University of Hawaii at Manoa, investigated the integration of Spam into Okinawan culture following the Cold War for her 2018 essay "Love! Spam: Food, Military and Empire in Post-World War II Okinawa." American troops first invaded the Okinawa Islands during World War II for their proximity to mainland Japan. Taking the islands meant the Allied powers could block supply routes and more easily carry out airstrikes against Japan. Koikari looked at what the troops left behind and how this contact shaped Okinawan culture and cuisine for women in particular.
In her research, Koikari took explored the kitchens of Okinawa women, browsing through Okinawan cookbooks to find countless recipes featuring Spam. For instance, a cookbook titled Love! Spam, published by Okinawa Hormel, boasts 100 different recipes featuring the luncheon meat, including Spam taco rice and Spam piccata.
In her essay, Koikari writes about the ways Okinawans adopted and "indigenized" products like Spam, integrating them into local dishes like poku tamago (an egg and pork dish) and chanpuru (a stir-fry).
"Awestruck by American military prowess, local populations welcomed luncheon meat and other foreign items that poured into their communities," writes Koikari, "embracing the American way of life and altering their indigenous food and foodways forever."
Koikari highlights the ways Spam may also be understood as a physical symbol of American empire and imperialism. Around 75 percent of U.S. military facilities in Japan are located in Okinawa, where luncheon meat has become more entangled with local cuisine than on the mainland, according to Koikari. In adopting the meat, Okinawans made it their own—a cosmopolitan exchange that irreversibly shaped Okinawan identity.
"If you talk bad about Spam, locals get mad at you," says Koikari in a phone interview. "They think it's their cultural pride. They think it's at the center of their local culinary culture."
Spam's integration into Asian and Asian American cuisine, forming culturally significant dishes, complicates notions of "authenticity." Sure, ancient Koreans didn't put Spam in their soup, but cultures have inherently changed throughout history as a product of international relations, imperialism, colonialism and expansionism.
Korean American chef Peter Serpico, author of Learning Korean: Recipes for Home Cooking, doesn't quite buy into notions of "authenticity," noting that it is now common to use Sprite or Coca-Cola in Korean beef short-rib marinades. While he doesn't think Spam is authentically Korean, he also doesn't think it particularly matters. As a South Korean adoptee who grew up in a diverse household, Serpico says that "nobody quite knows what 'authentic' is."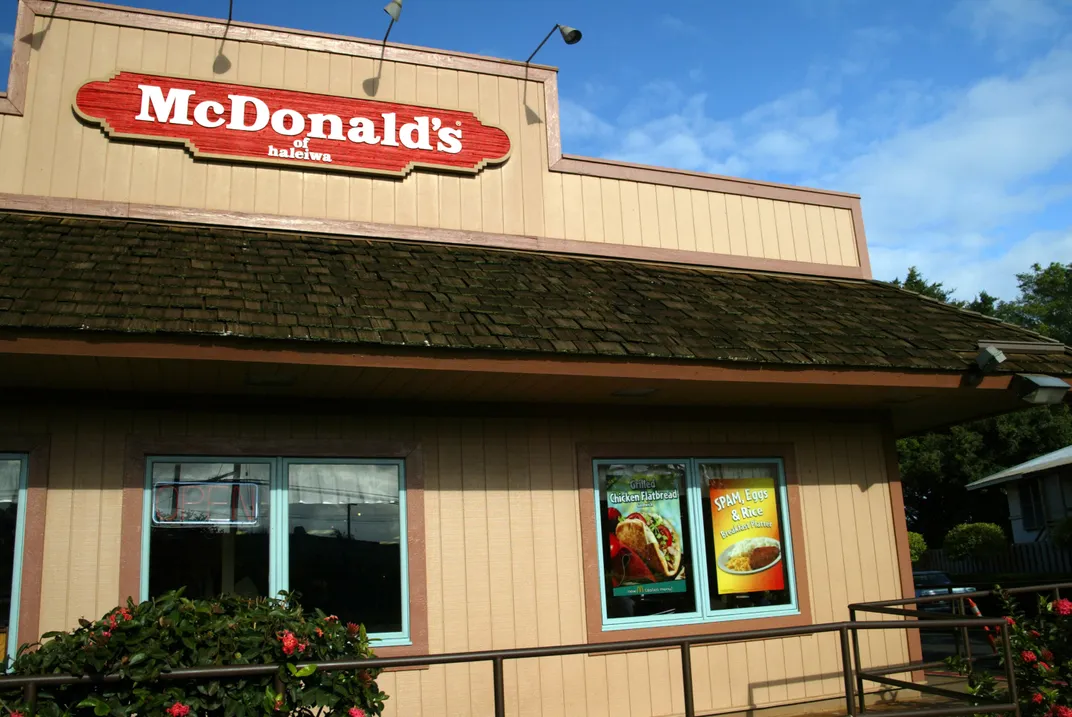 Another spot where Spam put down solid roots is Hawaii. According to the Spam Museum, 7 million cans of Spam products are consumed in Hawaii each year. Spam is the primary ingredient in many cultural dishes, such as Spam musubi—a snack food made of Spam, rice and seaweed. The meat is so prevalent that Spam breakfast platters can even be purchased at McDonald's across Hawaii.
Raised in Okinawa and living in Hawaii, Seiju Ifuku was part of the famed 100th Battalion—an American World War II unit made up of more than 1,400 nisei (second-generation Japanese Americans). Ifuku served as a cook, commonly using Spam in his dishes for the troops. After Ifuku's service, in 1961, he and his wife opened Rainbow Drive-In in the Kapahulu neighborhood of Honolulu, serving barbeque beef, chili and rice, hamburgers, and fries, each for a dollar or less.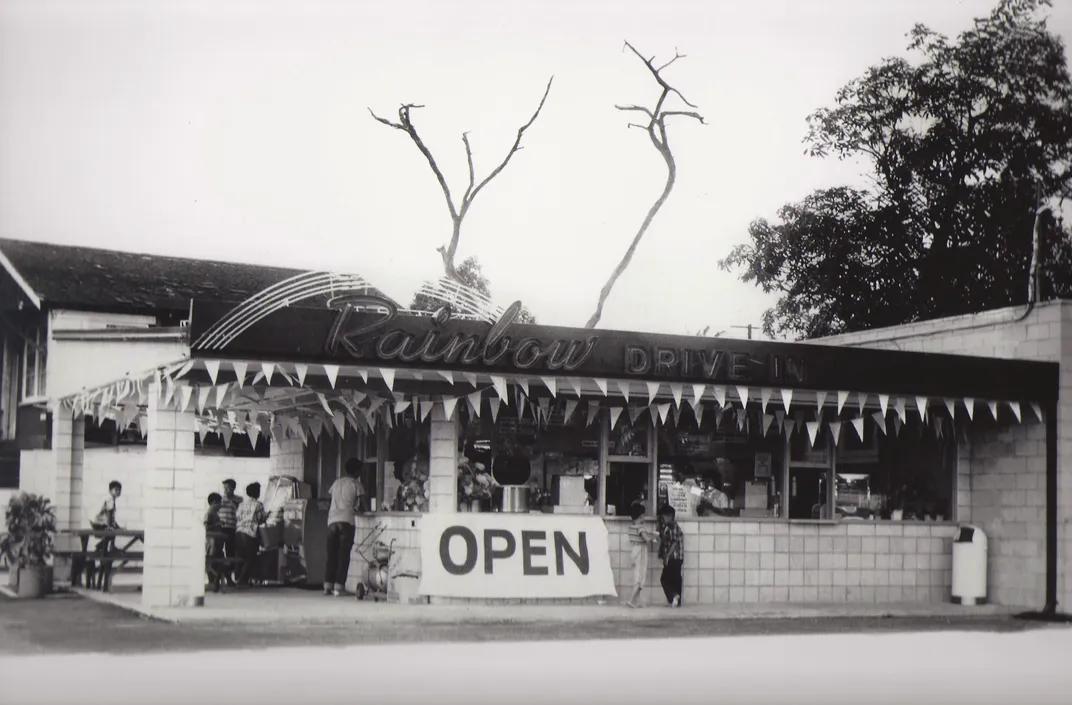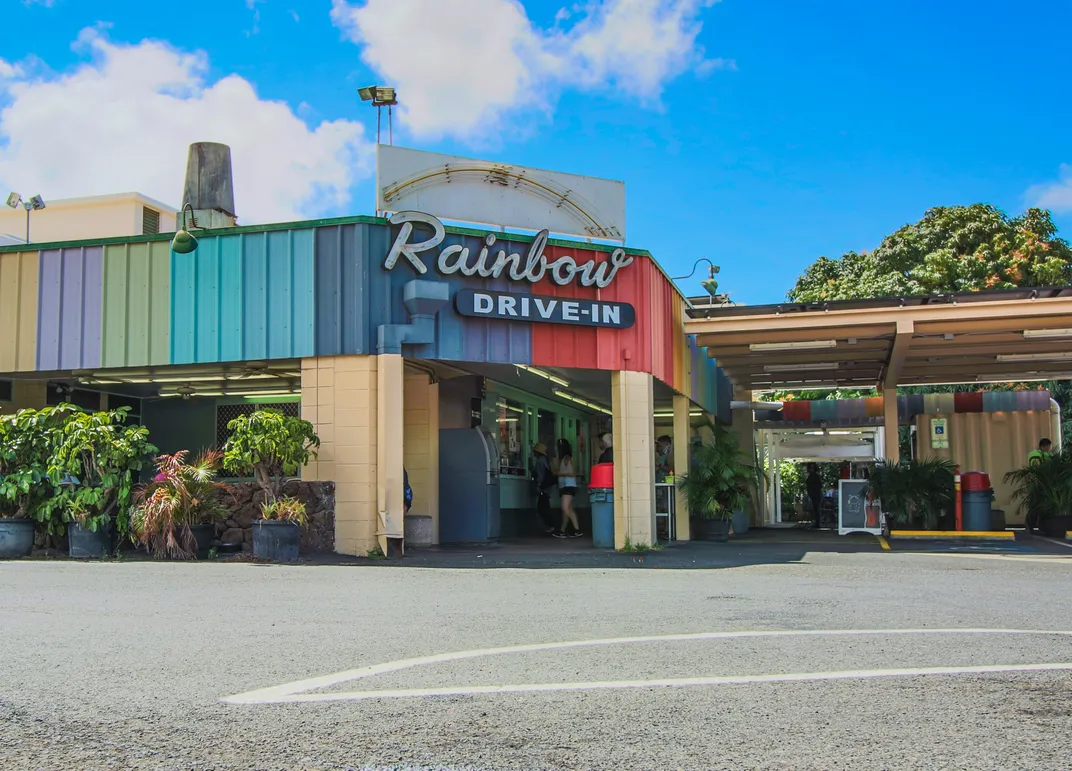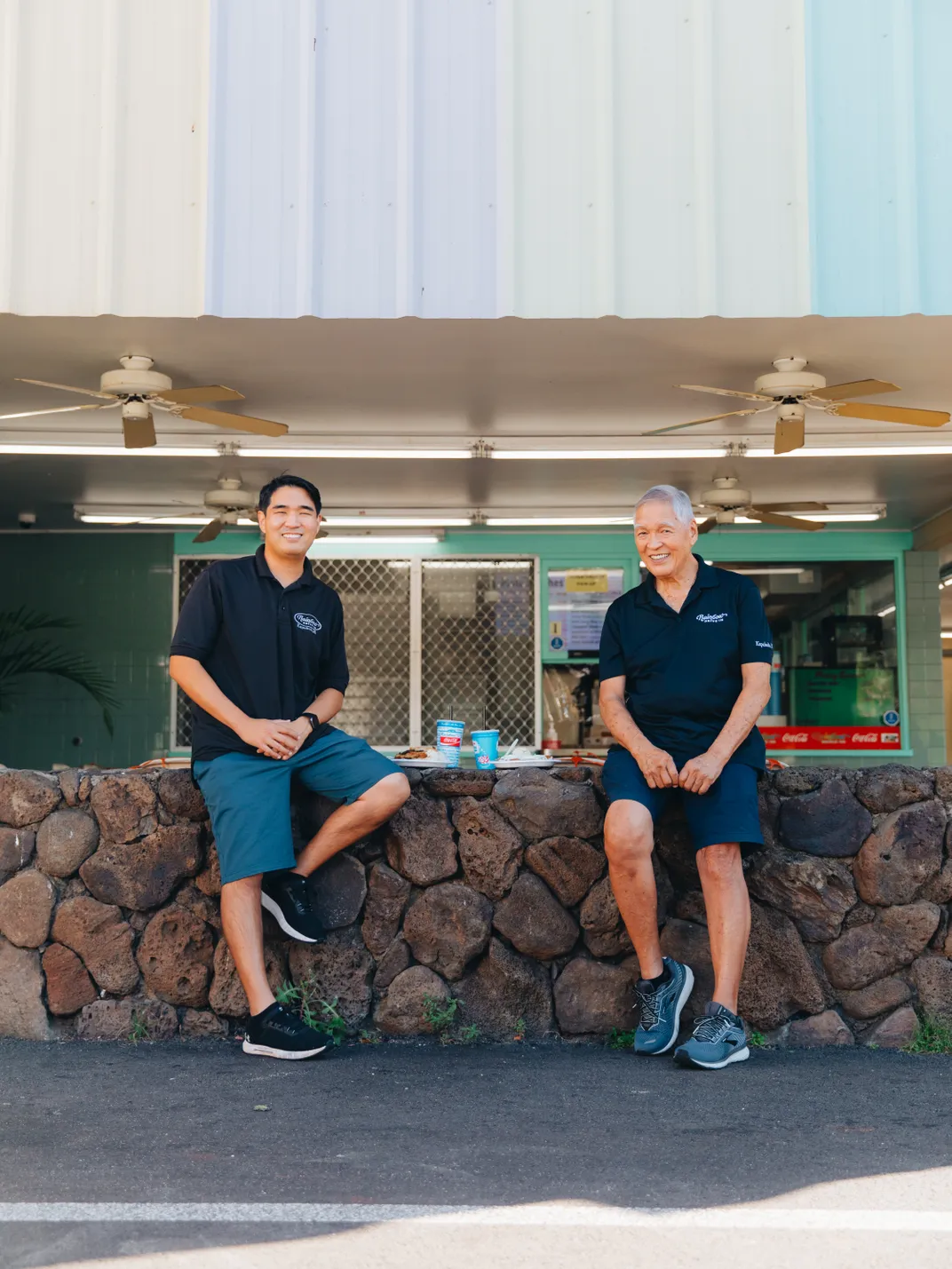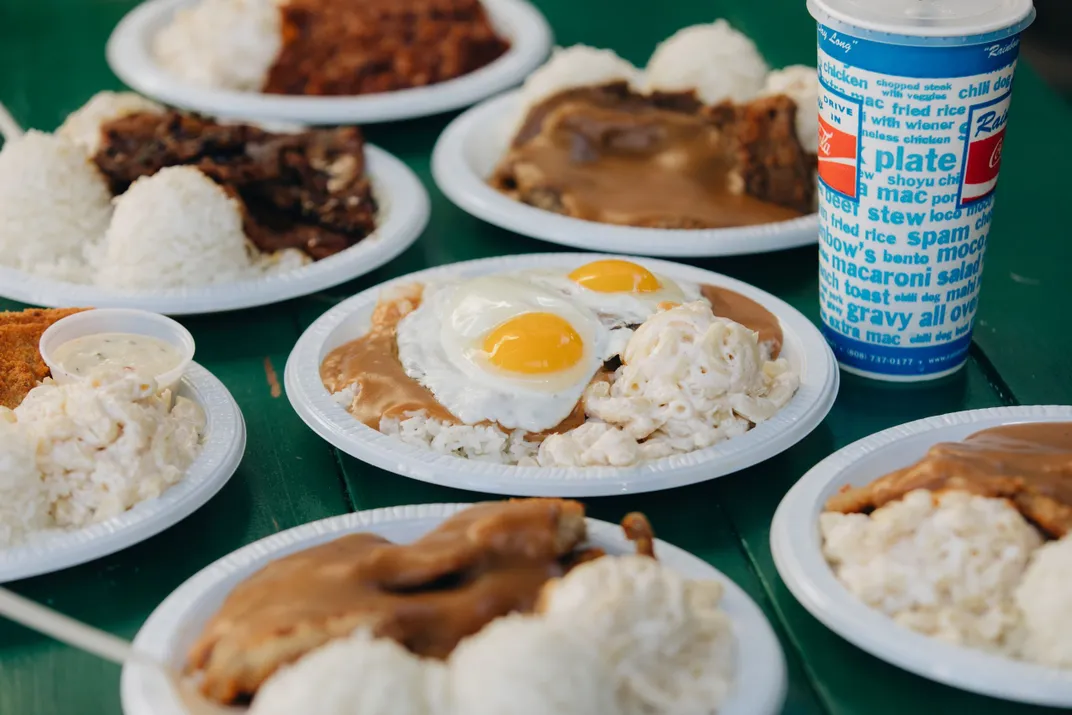 Once named by former President Barack Obama as one of his favorite places growing up to get a traditional Hawaiian plate lunch—a dish typically consisting of macaroni salad, scoops of rice and some sort of protein—Rainbow Drive-In still resides at its original location. Chris Iwamura, Ifuku's grandson, currently runs the restaurant, helping the business produce over 1,000 plate lunches daily.
"We've stuck to the original recipes since day one," Iwamura says.
Rainbow Drive-In's selections include a "Spam and two eggs plate" and a "Spam sandwich." The latter is a slab of Spam served with lettuce and tomato on white bread.
"Spam is a comfort food," says Iwamura. "We grew up eating it. You can tie [it] to memories of childhood soccer games or tennis matches, when we'd have Spam musubi after. That just brings nostalgia and that comfort feel."
In Specially Processed American Me, creator Jaime Sunwoo embarks on an autobiographical performance using Spam as a means to explain her upbringing as a Korean American and her family's experiences of the Korean War. On the musical's website, Sunwoo invites people to share their own Spam story. A collection of featured stories details individuals' memories of Spam and eggs, baked beans and Spam casserole, and instant ramen noodles with Spam.
In the show's trailer, an actor wearing a pig mask proclaims, "You are what you eat!"
"Spam?" Sunwoo responds in bewilderment.
At once ridiculous and insightful, this brief exchange strikes a chord with me. Budae-jjigae is a result of Korean-American wartime relations. Its stew simmers American ingredients with Korean ones, producing a unique dish made possible by the cultural exchange. Similarly, my own being is a result of wartime conflicts that led to my family's displacement and emigration. In a sense, I am a product of war, like budae-jjigae—a merging of Korean and American heritages.