'National Lampoon's Vacation' celebrates 40th anniversary: The cast then and now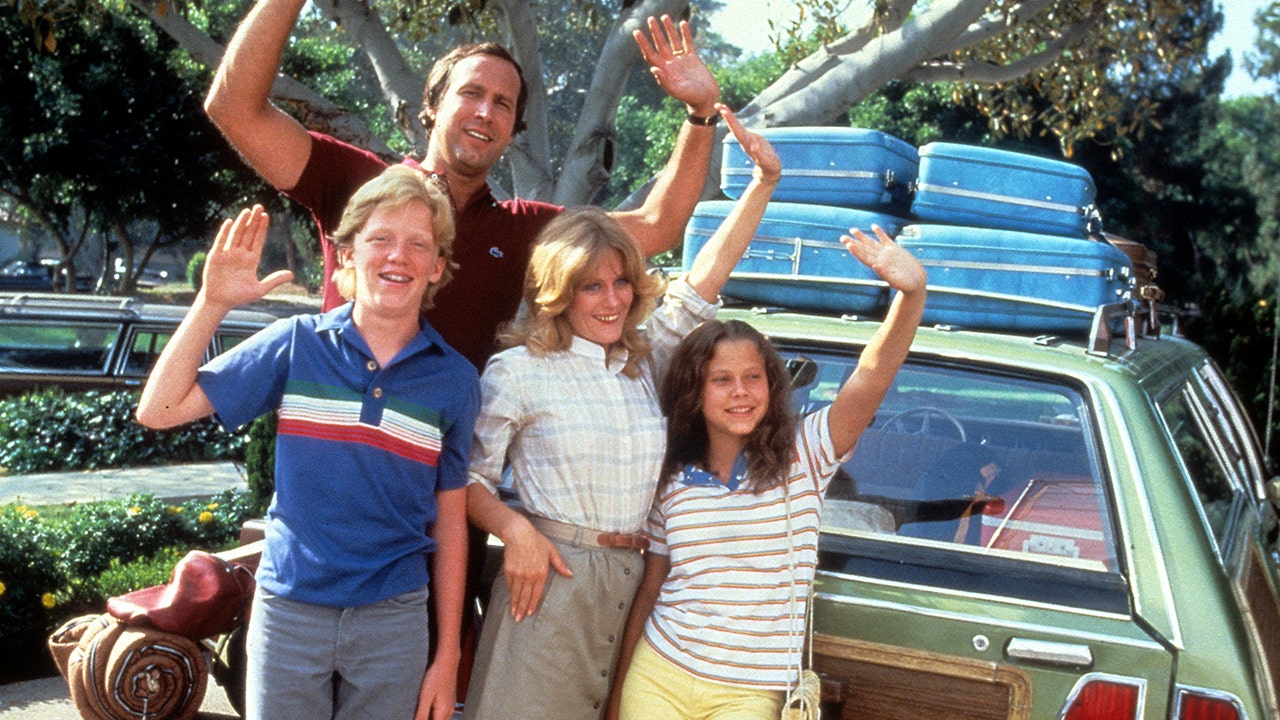 "National Lampoon's Vacation" is celebrating its 40th anniversary.
The movie follows the Griswold family as they embark on a road trip across the country, starting in the suburbs of Chicago and ending at a Southern California amusement park. Along the way, the family goes through one mishap after the other, while visiting kooky family members along the way.
Here is what the movie's stars have been up to since the film's release in 1983.
CHEVY CHASE, CHRISTIE BRINKLEY AND BEVERLY D'ANGELO ENJOY 'NATIONAL LAMPOON'S VACATION' REUNION
Chevy Chase
Chevy Chase was already an accomplished comedian, having been a part of the original cast of "Saturday Night Live," before taking on the role of the family patriarch, Clark Griswold, in "National Lampoon's Vacation." Along with reprising the role in a number of "National Lampoon" movies, he also appeared in "Fletch" and "Man of the House."
In 2009, Chase returned to television with a starring role in "Community," playing Pierce Hawthorne. The show also starred Joel McHale, Alison Brie and Donald Glover. He left the show in 2013, and has since starred in "Hot Tub Time Machine," "Lovesick" and "The Very Excellent Mr. Dundee."
Chase first married Susan Hewitt in February 1973, however the two got divorced a few years later in February 1976. He then married Jacqueline Carlin in December 1976 and the two were married for four years before getting a divorce in November 1980. Lastly, he married Jayni Luke in June 1982 and the couple has three daughters, Caley, Emily and Cydney. He also has a son Bryan Perkins from a previous relationship. 
CHEVY CHASE ADDRESSES CLAIMS HE WAS A 'JERK' ON 'SNL,' 'COMMUNITY': 'I DON'T GIVE A CRAP'
Beverly D'Angelo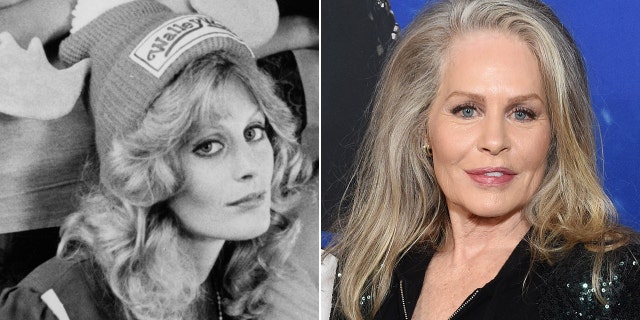 Beverly D'Angelo already had a Golden Globe nomination under her belt before gaining national recognition for her role as Ellen Griswold in "National Lampoon's Vacation." The following year, she was nominated for an Emmy Award for her role playing Stella Kowalski in the 1984 TV movie "A Streetcar Named Desire."
She later appeared in "Law & Order: Special Victims Unit," "The House Bunny" and "Mom." From 2005 to 2011, D'Angelo starred in the Max series "Entourage," playing the role of agent Barbara "Babs" Miller.
In 1981, D'Angelo married Italian duke Lorenzo Salviati. However, they divorced in 1995. The actress then dated actor Al Pacino from 1997 to 2003, having fraternal twins, a son and a daughter, in January 2001.
Dana Barron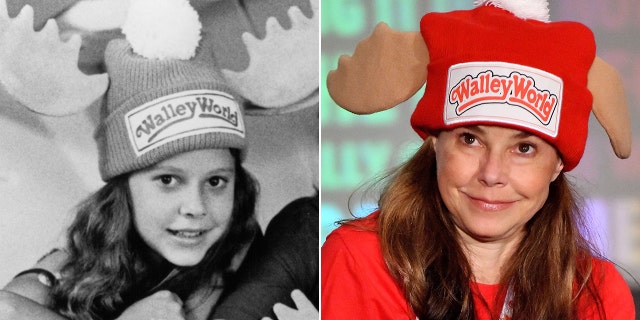 Dana Barron is most well-known for playing the temperamental teenager, Audrey Griswold, in "National Lampoon's Vacation." Following her breakout role, she won a Daytime Emmy Award for her part in the CBS after-school special "No Means No," and also had a career in soap operas, starring in "One Life to Live."
The actress reprised her role as Audrey, in the 2003 TV movie "National Lampoon's Christmas Vacation 2: Cousin Eddie's Island Adventure," and also appeared on "Beverly Hills, 90210" and "The Magnificent Seven."
Barron has one son, Taylor, from her relationship with filmmaker Michael Vickerman. 
Anthony Michael Hall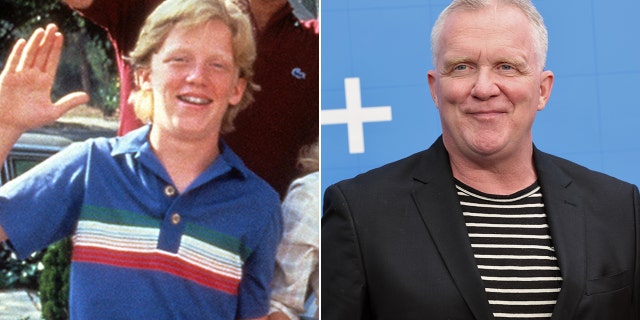 Anthony Michael Hall starred as Rusty Griswold in "National Lampoon's Vacation," before becoming a member of the Brat Pack by starring in "Sixteen Candles," "The Breakfast Club" and "Weird Science."
He later starred in "Full Metal Jacket," "Johnny Be Good," "Six Degrees of Separation" and his own drama "The Dead Zone," from 2002 to 2007. He then starred in "Foxcatcher," "War Machine," "Halloween Kills" and "The Goldbergs."
The actor announced in 2019 he was engaged to actress Lucia Oskerova, with the two tying the knot in 2020. In February 2023, the couple announced they were expecting their first child together.
Christie Brinkley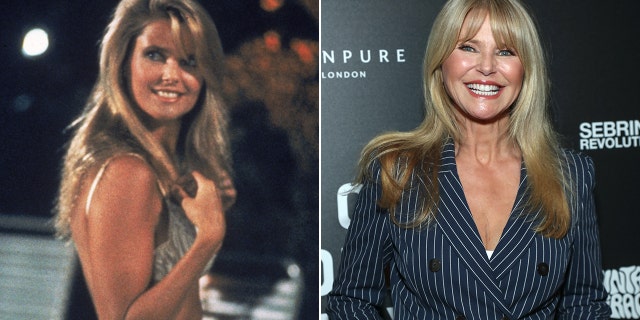 Sports Illustrated model Christie Brinkley got her first acting gig in 1983's "National Lampoon's Vacation," playing "the girl in the red Ferrari." She went on to appear in a number of music videos for Billy Joel, as well as continuing to model, appearing on over 500 magazine covers.
The model reprised her role in "Vegas Vacation," going on to appear in "Ugly Betty," "Parks and Recreation," "Nightcap" and "The Goldbergs." Brinkley was first married to Jean-François Allaux from 1973 to 1981. She later married musician Billy Joel in March 1985, having one daughter together, Alexa Ray Joel, before getting a divorce in August 1994. 
CHRISTIE BRINKLEY RECREATES HER 'GIRL IN THE RED FERRARI' MOMENT FROM 'NATIONAL LAMPOON'S VACATION'
She then married real estate developer Richard Taubman in December 1994 and they were married for one year before welcoming their son Jack in June 1995, getting a divorce later that year.  Brinkley went on to marry Peter Halsey Cook in September 1996 and welcomed daughter Sailor in July 1998. Cook and Brinkley announced their separation in July 2006, finalizing their divorce in 2008.
Eugene Levy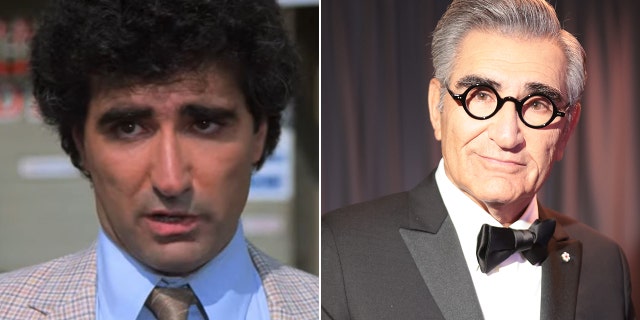 Eugene Levy had already made a name for himself as a member of Second City, an improv theater troupe in Canada, and was a two-time Emmy Award winner before appearing as the car salesman in "National Lampoon's Vacation." He went on to appear in "Armed and Dangerous," "The Man," "Splash," "Serendipity" and had small roles in other comedies throughout the years.
In 2015, Levy and his son created and starred in the hit television show "Schitt's Creek" together. The show reunited him with his "Second City Television" – a sketch comedy series – co-star Catherine O'Hara and earned him a handful of award nominations, including two Emmy wins. 
'SCHITT'S CREEK' STAR EUGENE LEVY: SHOW IS LIKE WATCHING KARDASHIANS LOSE EVERYTHING
The actor married his wife Deborah Divine in 1977 and the couple have two children together, Dan and Sarah Levy, both of whom are actors and starred in "Schitt's Creek" with him.
John Candy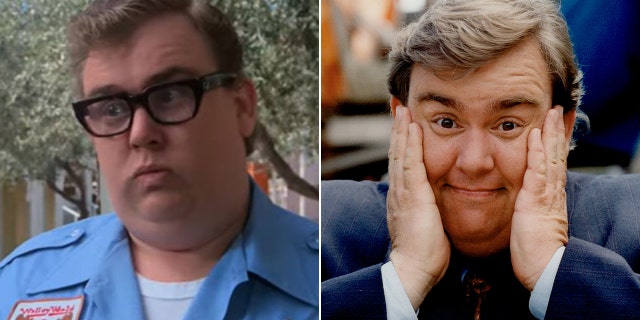 John Candy also got his start on the SCTV Network, before appearing as security guard Russ Lasky in "National Lampoon's Vacation." He went on to star in "Ghostbusters," "Splash," "Spaceballs" and "Planes, Trains and Automobiles." 
The actor then appeared in "Home Alone," "The Rescuers Down Under," "JFK" and "Cool Runnings." His last on-screen appearances were in "Wagons East" and "Canadian Bacon." He was meant to voice a character in Disney's animated film "Pocahontas," however he passed before he could do the recording, and the character was eventually cut from the film.
NATIONAL LAMPOON' STAR BEVERLY D'ANGELO ON HOW SHE 'INHERITED THE ROLE OF' BEING THE CHEVY CHASE 'WHISPERER'
He married his wife, Rosemary Hobor in 1979 and the couple went on to have two children, Christopher Michael and Jennifer Anne. The two were married until his death in March 1994 due to a heart attack.
Randy Quaid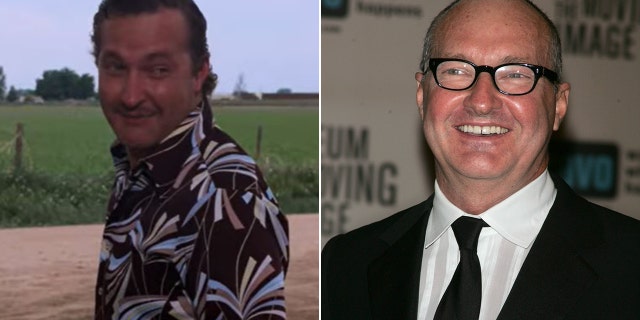 Randy Quaid was already an Academy Award, BAFTA and Golden Globe-nominated actor before taking on the role of Cousin Eddie in "National Lampoon's Vacation." He went on to win a Golden Globe and score an Emmy nomination for his role in "LBJ: The Early Years."
The actor later appeared in "Independence Day," four of the seven "Vacation" sequels" and the comedy "All You Can Eat." Quaid also earned Gloden Globe and Emmy Award nominations for his work in the miniseries "Elvis," and had a pivotal role in the critically-acclaimed movie "Brokeback Mountain."
He was first married to former model Ella Marie Jolly from May 1980 to August 1989, and in that time they had a daughter, Amanda Marie, born May 1983. He met his second wife, Evi Motolanez, in 1987, while separated from Jolly, going on to marry her in October 1989.
Jane Krakowski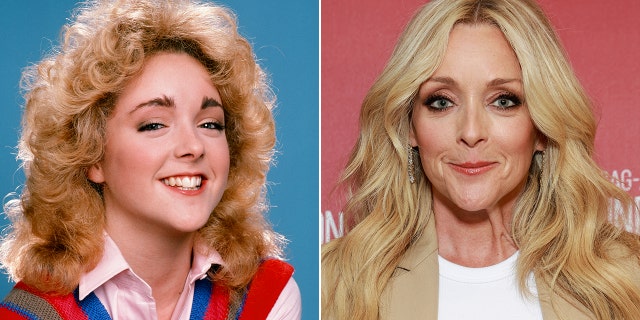 Playing Cousin Vicki in "National Lampoon's Vacation" was Jane Krakowski's first big role. She did not slow down after getting her big break, going on to star in "Search for Tomorrow" from 1984 to 1986.
She went on to star in "Ally McBeal," for which she was nominated for four SAG Awards, "30 Rock," for which she was nominated for seven SAG Awards and four Emmy Awards, and lastly, "The Unbreakable Kimmy Schmidt," for which she was nominated for an Emmy Award.
JANE KRAKOWSKI: '30 ROCK' REBOOT HAS BEEN TALKED ABOUT
She also starred in a number of successful movies such as "Fatal Attraction," "The Flintstones in Viva Rock Vegas" and "A Christmas Carol." As a trained singer, she appeared on Broadway in "Starlight Express" and "She Loves Me," for which she was nominated for a Tony Award.
In 2009, Krakowski got engaged to British designer Robert Godley, and they welcomed a son Bennett Robert Godley in April 2011. They later separated in 2013.
Imogene Coca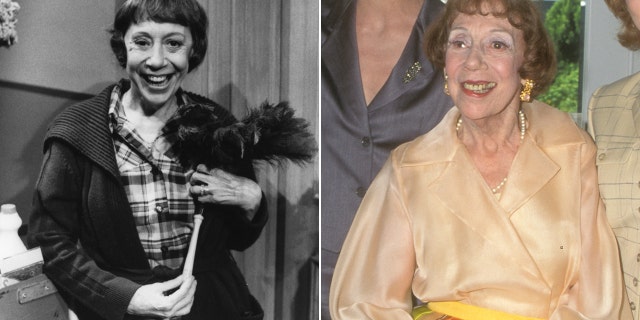 Prior to taking on the role of Aunt Edna in "National Lampoon's Vacation," Imogene Coca was an accomplished Emmy-winning television and Tony award-nominated stage actress.
Following her role as Aunt Edna, Coca continued to appear as a guest on a number of TV shows, including "Moonlighting," which earned her a sixth Emmy Award nomination.
VACATION LESSONS FROM THE GRISWOLDS
The actress was married twice, first to Bob Burton, from 1935 until his death in 1955, and then again to King Donovan from 1960 until his death in 1987. In June 2001, Coca passed away from natural causes incidental to Alzheimer's disease, at the age of 92. 
Brian Doyle-Murray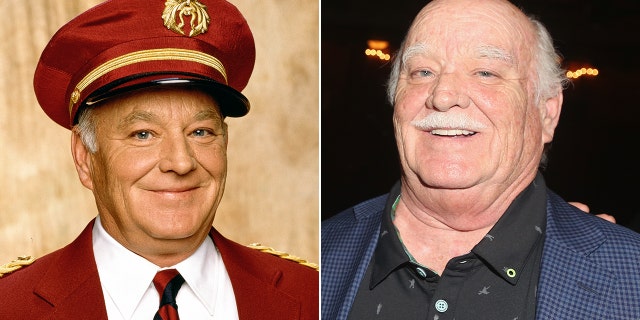 Brian Doyle-Murray got his start on Second City before moving on to "Saturday Night Live" and his role as Kamp Komfort Clerk in "National Lampoon's Vacation." He then went on to star in "Sixteen Candles," "Scrooged," "Ghostbusters II," "As Good As It Gets," "Stuart Little" and "17 Again."
On the TV side, he had long-lasting roles in "Spongebob Squarepants," "Good Sports," "Love & Money," "Yes, Dear," "The Marvelous Misadventures of Flapjack," "Sullivan & Son" and "The Middle."
In August 2000, Murray married veterinarian Christina Stauffer and the two have been together ever since.
Miriam Flynn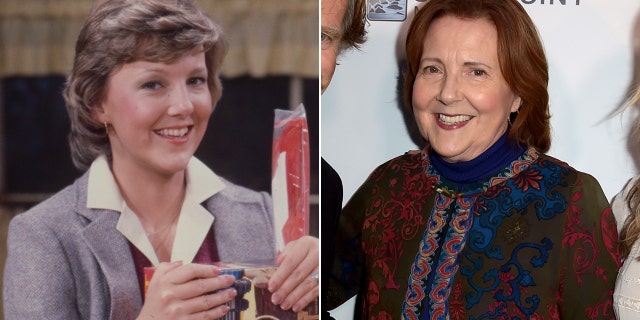 Miriam Flynn had only a few credits to her name before starring as Cousin Catherine in "National Lampoon's Vacation." She would go on to voice Maa the ewe in "Babe" and become a series regular on "Raising Miranda."
She later appeared in "Grounded For Life," "George Lopez," "The Legend of Calamity Jane," "Mom" and "Call Me Cat," and lent her voice to "The Land Before Time" series.
The actress married screenwriter Will Aldis in 1979. They share two children together.
Frank McRae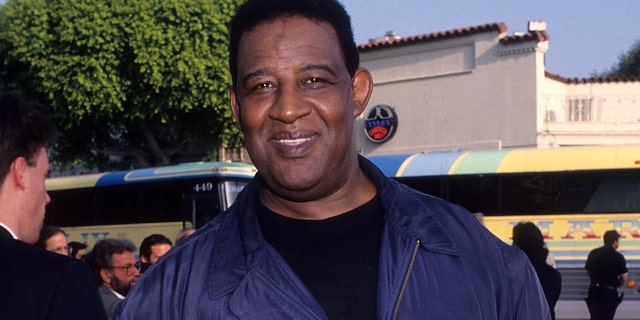 Frank McRae was a football player-turned-actor who had more than a few credits to his name before he landed the role of Grover in "National Lampoon's Vacation." In this film, he reunited with John Candy, who he had starred with in "1941."
CLICK HERE TO SIGN UP FOR THE ENTERTAINMENT NEWSLETTER
He went on to appear in "Red Dawn," "License to Kill," "Batteries Not Included," "The Wizard," "Loaded Weapon 1," "Lightning Jack" and "Love's Long Journey" and "Love's Abiding Joy," which were his last acting roles.
The actor passed away in April 2021 after suffering a heart attack at the age of 80.
James Keach
After starring as Motorcycle Cop in "National Lampoon's Vacation" in 1983, Keach continued to act sporadically, appearing in "The Razor's Edge," "Wildcats," "The New Swiss Family Robinson," "Walk the Line" and "Ray Donovan."
Aside from acting, Keach was also a director, having worked on "The Forgotten," "The Stars Fell on Henrietta," "Blind Dating," "Augie" and "Turning Point."
CLICK HERE TO GET THE FOX NEWS APP
Keach was previously married to Holly Collins, and together they had a son named Kalen Keach. After his separation from Collins, he married Mimi Maynard, however they divorced in 1993. In 1993, Keach married actress Jane Seymour, and in 1995, the couple welcomed twin boys John Stacy and Kristopher Steven. The couple announced their separation in April 2013, finalizing their divorce in December 2015.