What's Happening with Flight Prices? You're Going to Like the Answer!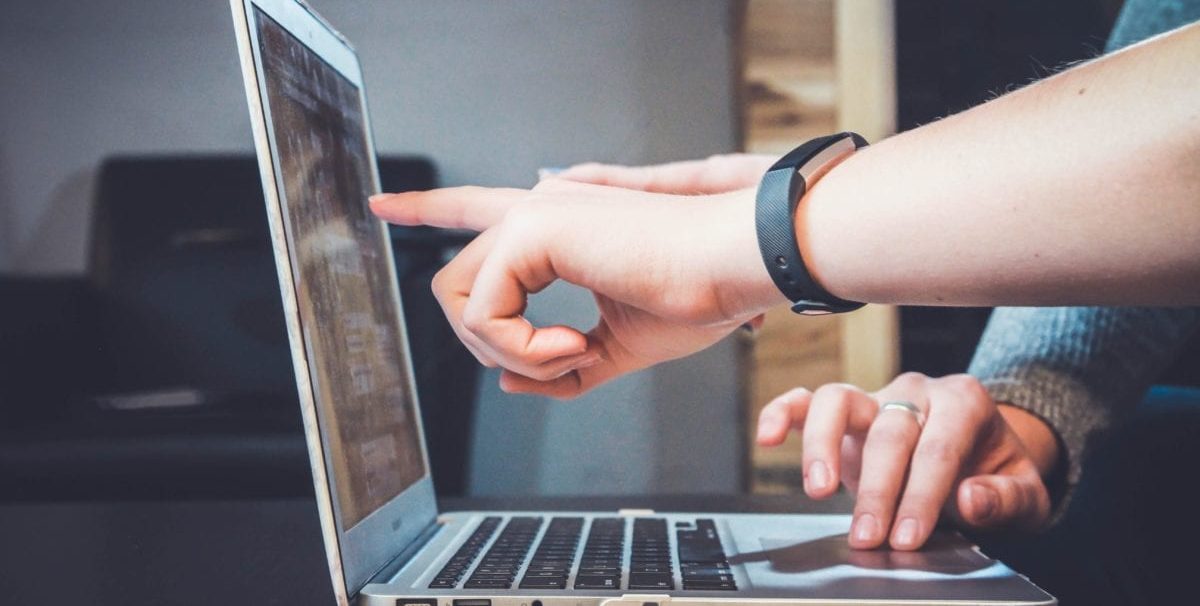 Flight pricing is unpredictable and fickle: Airfare changes by the minute due to airlines' costs, travel demand, available capacity, and more.
Our team searches all day, every day for the cheapest domestic and international flights to send to our Thrifty Traveler Premium members. There are a few undeniable trends we've seen lately – and we think you're going to like them if you're plan a trip before the end of the year, or even in early 2024.
For one, airfare to Europe for the fall, winter, and spring is plummeting. We're seeing roundtrip airfare to Europe in the $300s and $400s from all over the United States and Canada. And while sometimes cheap flights to Europe are a sign of expensive airfare here at home, we're not seeing that this time around. Flights within the U.S. and Canada are staying cheap right now, too!
So flight prices are going down overall, but will they stay there? It depends on where you're looking.
Domestic Flight Prices are Staying Cheap
Last year, searching for domestic flights was a unique form of torture. With roundtrip fares rocketing into the $400s, $500s, and $600s, many travelers simply did away with their travel plans. This year, we're looking at a whole different landscape.
This summer, we noticed an awesome trend: Domestic flights were getting cheaper and cheaper.
And as soon as we started noticing all of these beautiful sub-$200 and sub-$100 fares, the federal government's inflation report – the Consumer Price Index – backed our observations up, showing huge drops in average airfare over five straight months through mid-summer.
While average airfare rose 5% in August, flight prices were still down 13.3% from August 2022. And according to data from the airfare booking site Hopper, average domestic flight prices for fall 2023 are 29% lower than they were this summer. Plus, fall airfare is down 9% from fall 2022 as well.
So why is domestic airfare staying cheap, right now? This time of year, an uptick in domestic airfare isn't uncommon as travelers flock to book holiday travel. And airfare right around the Thanksgiving and Christmas holidays is still relatively high. Most Americans travel domestically during the holiday season, which pushes demand for domestic flights much higher.
But average flight prices are still going down. We're finding some fantastic cheap flight deals in the U.S., whether it's over the next few months or into 2024.

Sizzling, sub-$100 fares like this are back for domestic flights, giving travelers great options for themselves or their whole families! But that's only for people who like cheap flights to places like Orlando (MCO), or Denver (DEN)…
Or Phoenix…
Or Nashville!

Get deals like this in your inbox with Thrifty Traveler Premium – or get every cheap fare and points and miles alert we find with Thrifty Traveler Premium+!
Bottom line: There's a ton of value out there for domestic travel right now. Go find it!
Flight Prices to Europe are Dropping…Fast!
Anyone care for some more good news? Flight prices to Europe have been stellar lately, with some of the best fares we've ever seen to some of our favorite destinations.
According to the same data report from Hopper, average airfare to Europe is 31% cheaper this fall than it was this summer. This is not an uncommon occurrence, and it even has a name: Shoulder season.
We love shoulder season travel for exactly this reason. Prices go down after families go back to school in September, leading to huge savings. And interestingly, airline executives have been making a point of extending their "summer" schedules into September and October due to increased demand. Delta CEO Ed Bastien spoke about that strategy last year at a conference in Minneapolis.
That means airlines like Delta are treating these early fall months like summer, running larger aircraft more frequently between some of the most popular European routes. The end result: More seats flying to and from Europe in the fall with much less demand. I'm no economist, but lower demand and higher supply typically means one thing…low fares!
Combine that with the typically cheap winter fares to Europe, and we're looking at a solid six months of cheap flights ahead of us.
In some cases, the fares look like this…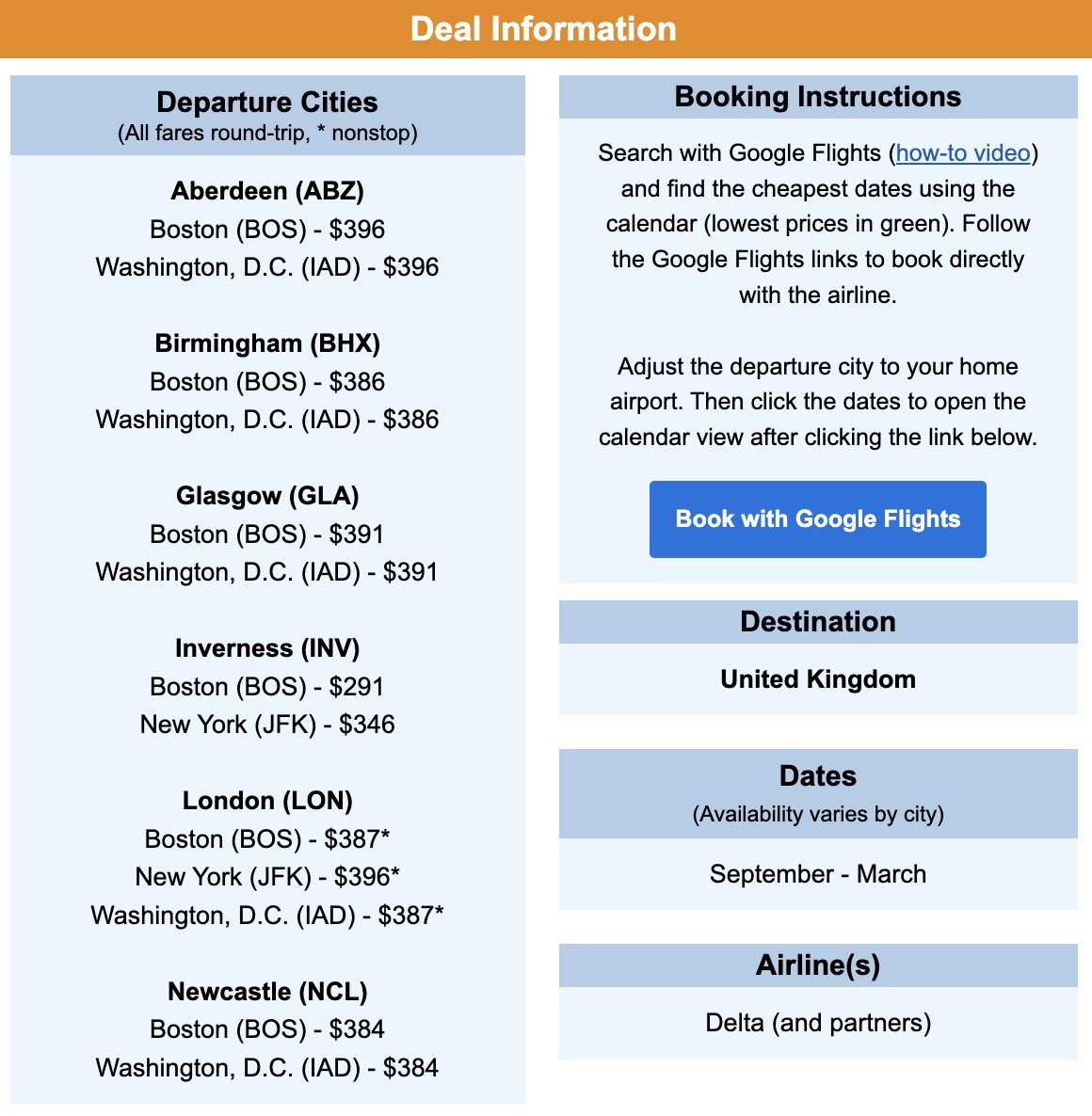 These wild fares were the crux of a change in flight pricing patterns to Europe from the U.S. over the last two or three weeks. These were all unbelievable fares, especially compared to just a few months ago. Boston (BOS), New York (JFK), and Washington, D.C. (IAD) were the chief beneficiaries of these insanely low U.K. fares flying Delta and its partners, for instance.
But elsewhere in Europe, we're seeing more of the same.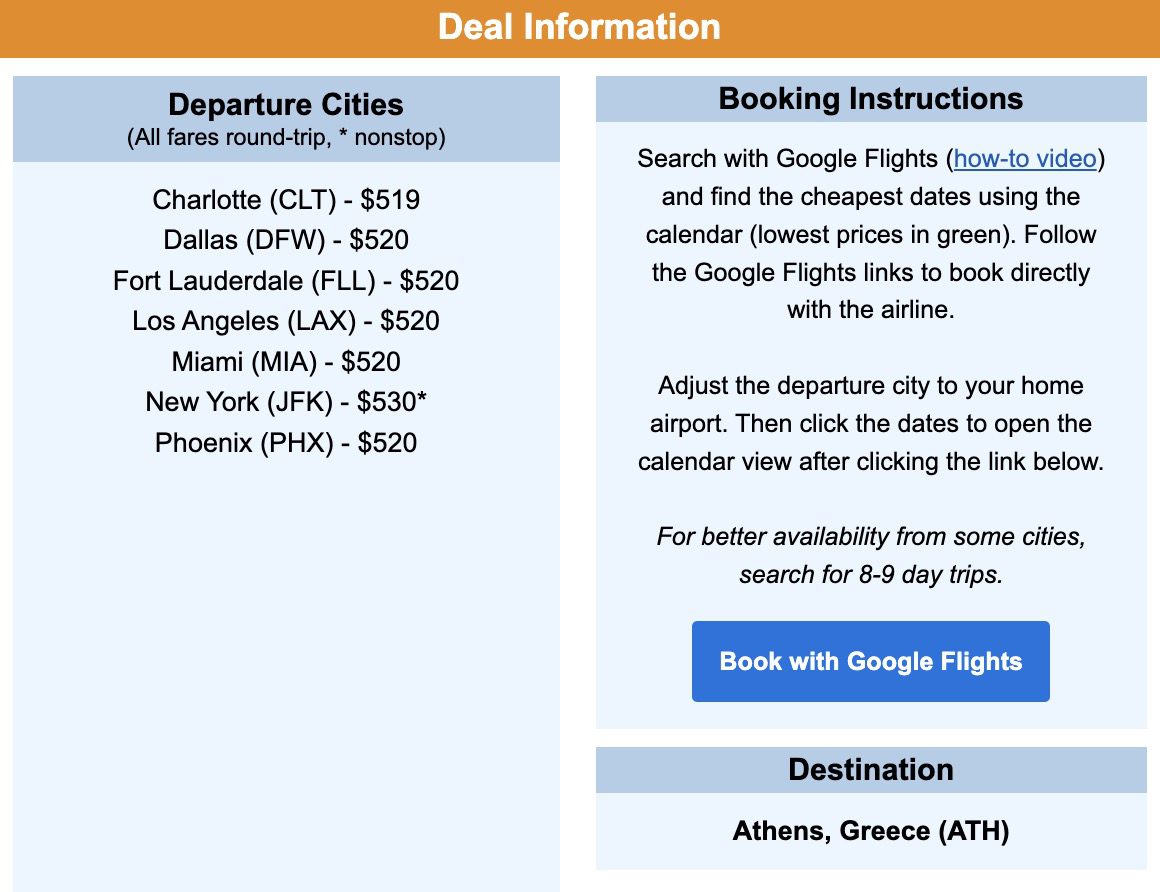 These low prices are long gone – get all our best deals in your inbox with Thrifty Traveler Premium!
Flights to Greece don't get this cheap very often, but these amazing, coast-to-coast fares really put a pep in our step.
We feel the same about Dublin, Ireland (DUB) flight deals, too.
Thanks to low-cost carriers like Icelandair, getting to Dublin doesn't have to be expensive. But there's another budget-friendly airline that would not be left out of the Dublin conversation, and that's Ireland's flag carrier Aer Lingus.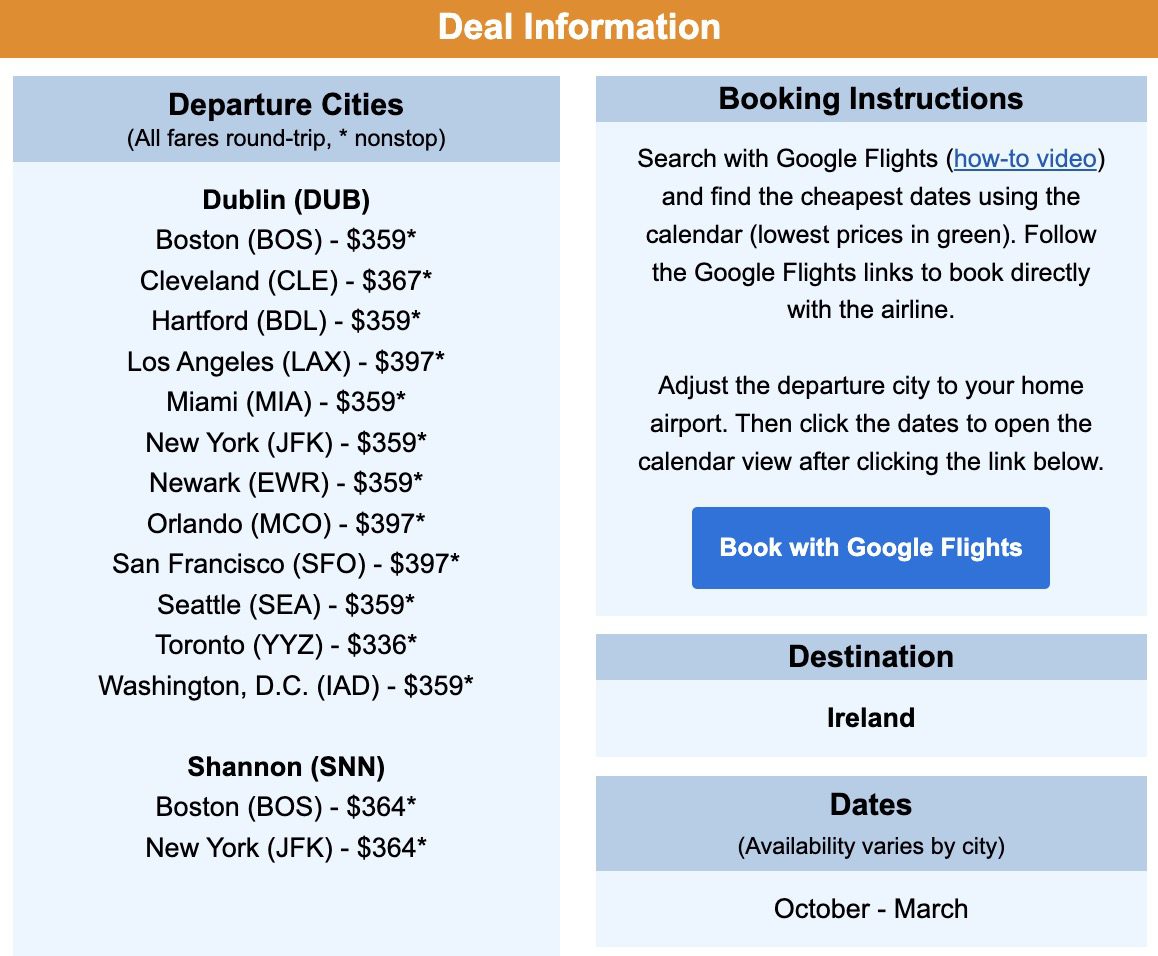 How about that! Sub-$400 nonstop flights to Ireland this fall, winter, and spring.
Speaking of spring, nothing quite says spring in Europe like when the tulips bloom in Amsterdam. If only there was an affordable way to get there for that…
And that's barely scratched the surface of the Europe flight deals we've been slinging to our subscribers over the past few weeks. Here are some other destinations we've featured:
Barcelona, Spain (BCN) under $497
Portugal under $598
Iceland under $592
Glasgow, Scotland under $591
All over France under $598
Cyprus under $590
London under $595
Geneva, Switzerland under $597
Spain under $599
And that's just since Sept. 3! There's sure to be much more to come.
Points & Miles Deals are Thriving, Too
Airfare is cheap right now, so you might opt to pay cash instead of using your hard-earned points and miles this year or next. But the value – and most crucially – the availability for points and miles award deals is abundant right now.
In fact, we've been sending Thrifty Traveler Premium+ members more award alerts than ever.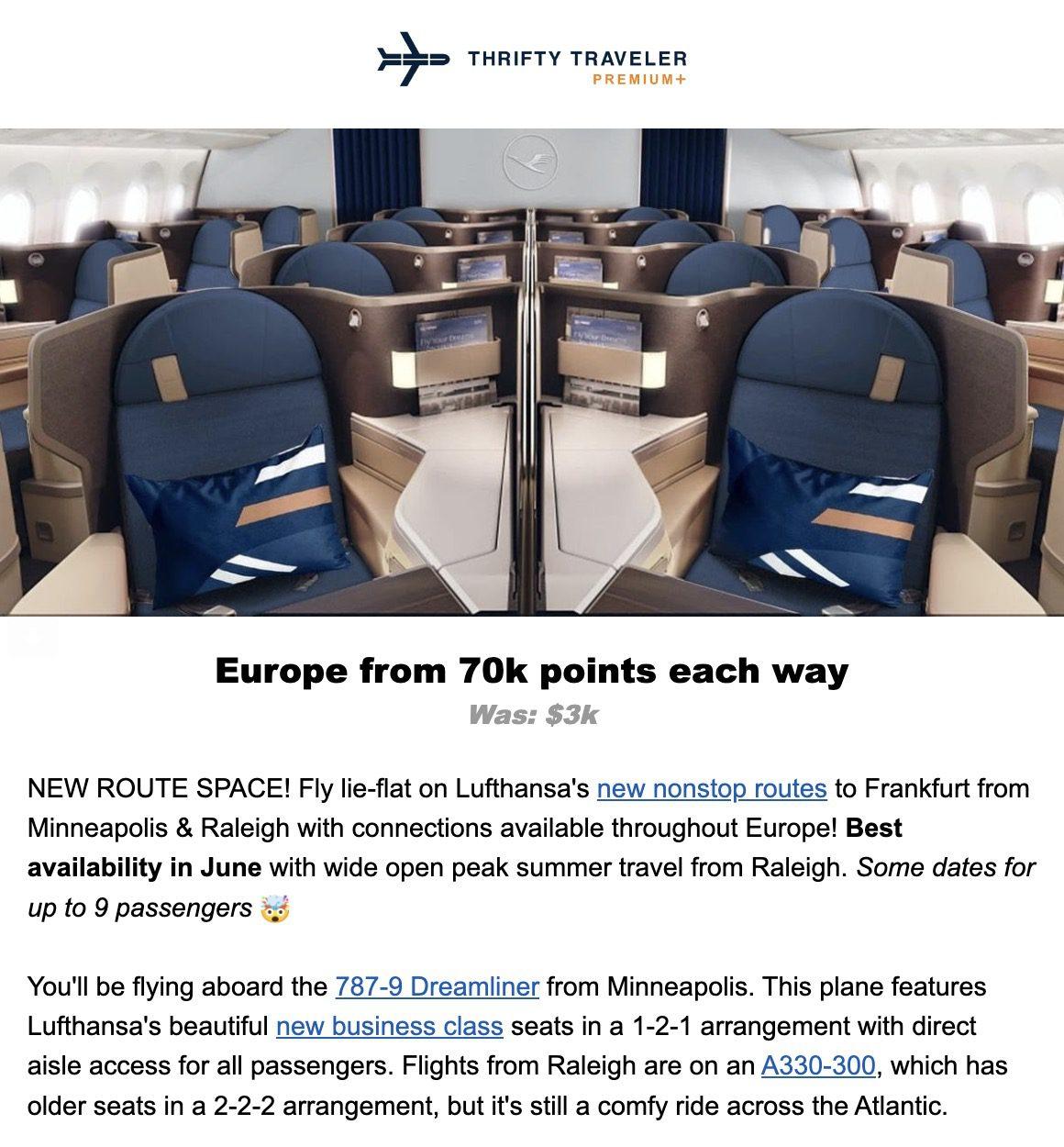 Only Thrifty Traveler Premium+ members get award alerts like these!
This deal came about right after Lufthansa added a new nonstop flight from Minneapolis (MSP) to Frankfurt, Germany (FRA) earlier this week. And the end result was some amazing business class value to Germany!
And that was just the latest business class deal we've found lately. We also sent this beauty for some people who want to get to Switzerland in style.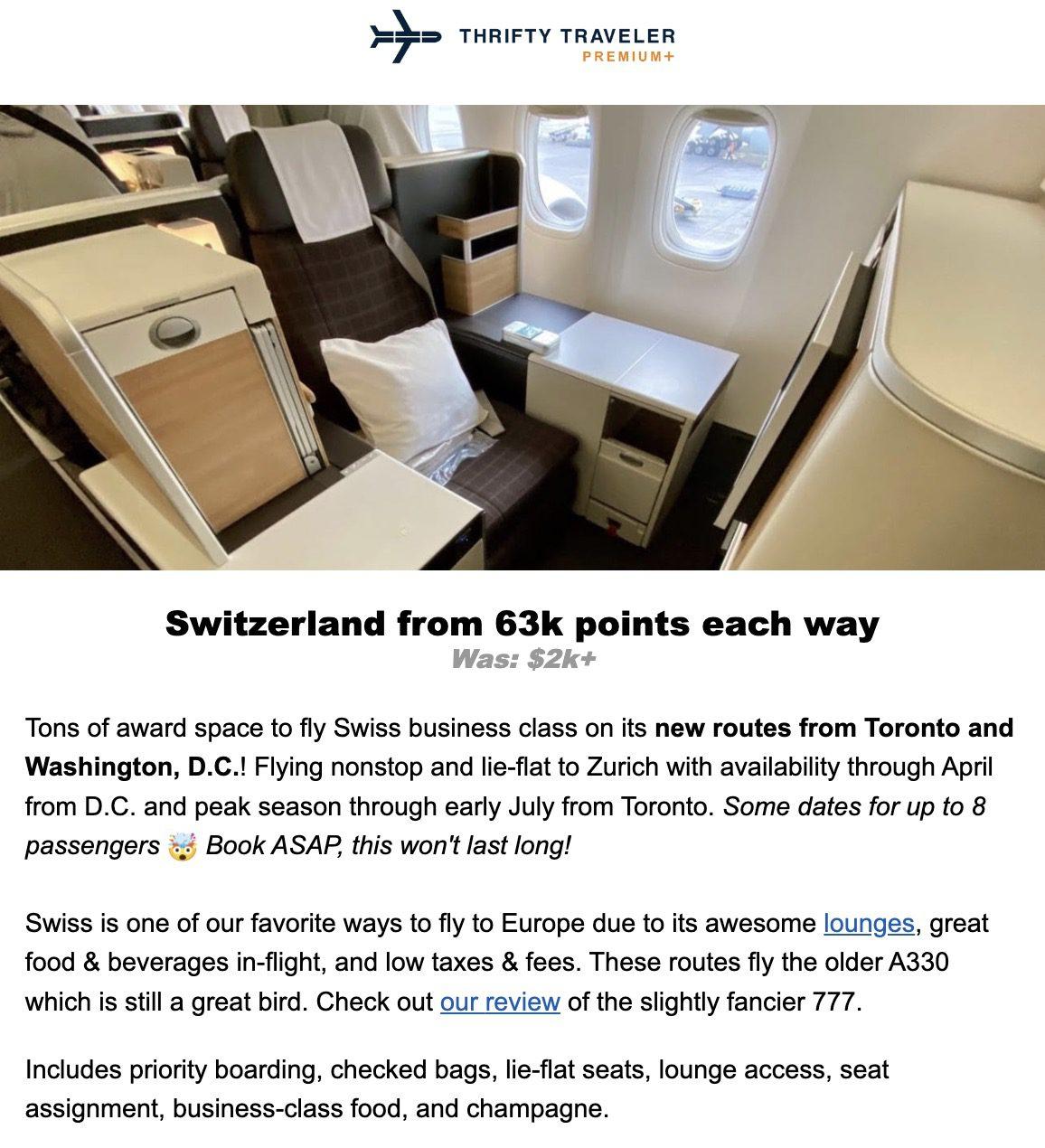 But you don't have to ride in business class to get amazing value from your points and miles. For our subscribers with Delta SkyMiles, we found a few ways to get you halfway around the world just last week.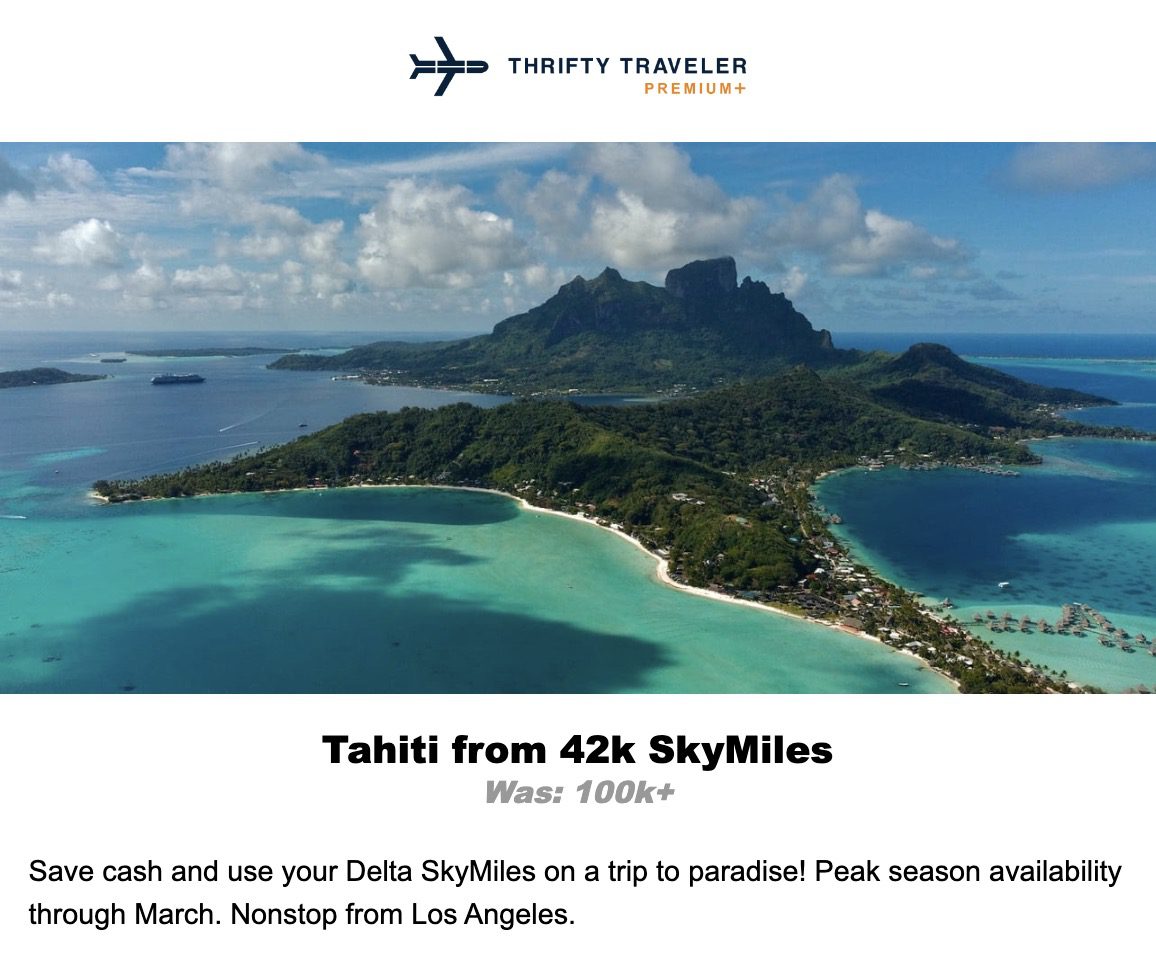 Thrifty Traveler Premium+ members get Delta SkyMiles flash sales like this one, too!
Tahiti (PPT) is a one-of-a-kind journey, but this wasn't a one-of-a-kind sale. An almost identical sale happened concurrently down to Australia and New Zealand, too!
Bottom Line
Airfare is seemingly dropping everywhere right now, and it's high time travelers took advantage.
Domestic flight prices are falling in the United States and Canada, and we're simultaneously seeing some of the best fares of the year over to Europe. With both of these things being true at once, you can find the deals you're looking for in 2023 or 2024.